Archives
Friday, December 17th 2010
Neil Patrick Harris took a swipe at the bow tie permanently fixed on the neck of Eric Braeden (who has played Victor Newman on Young and the Restless since the stone age) on Twitter today after the latter pulled out of a guest appearance on How I Met Your Mother because he felt the role was too small. Doogie called Victor a d-bag and said Ray Wise is taking the part instead. Well, Victor Newman is not about to let Doogie slap him in the face with a white glove and so he slapped back in a statement to Entertainment Weekly. The word "whippersnapper" was used, so you know Victor is thisclose to beating a ho down.

I really don't know who that fellow is. He's a guy who stars in that series. It's very unfortunate. First of all, I came back from hip surgery. I was off for three weeks. I've doubled my work, 30 to 50 pages a day for me, alone. Everyone knows that I'm exhausted. I was not about appear on a show for two lines, because that's what it amounted to.

His choice of words bothered me. He seems to me like a young whippersnapper who's received a few awards and is now suffering from the first sign of hubris. I've been in the business for 50 years. I've seen people come and go and I'm still here. If he is a worthy adversary, he'd better not cross my path. I will let bygones be bygones."
And just when Victor was about to challenge Doogie to a gentlemen's duel behind the coach house at sundown, Neil Patrick Harris apologized on Twitter for calling him a d-bag. That's right, you young whippersnapper, you! Victor Newman might look like an old wheezy queen who shed a tear when his butler accidentally ripped his favorite silk pocket square, but the bitch don't play!
Friday, December 17th 2010
I'm not sure what thang Fishy's hollerin' about, but here she is shaking it in a clip from Country Strong that you can use as an excuse when the bartender at the Howard Johnson bar tries to cut you off later on tonight. " "But I just watched Gwyneth Paltrow shake that thing."Take the whole bottle." You know, even though Fishy dances like a lame funky chicken with a broken neck, it's not THAT terrible. Okay, it's that terrible. And since we're already nibbling on the terrible shit Fishy's serving up, here's a quote from her upcoming cookbook:

"I can still hear [my father] over my shoulder, heckling me, telling me to be careful with my knife, moaning with pleasure over a bite of something in the way only a Jew from Long Island can, his shoulders doing most of the talking."
How do you flip someone off with your shoulders, because mine are trying to do that. And we might as well go FULL TERRIBLE. Here's another quote.
"When I was growing up, the tomato soup I had was Campbell's, and how I love it to this day.

"This is how my mother and I remember it, anyway. Bizarrely, my father and brother always fought us on the validity of this story, as if one would hide serving canned soup for dinner ... anyway, I boringly digress."
And that just makes me want to bang my head against a Campbell's soup can until one of us is bleeding.
via Eater (Thanks Meredith)
Friday, December 17th 2010
Some poor My Little Pony's got a cold asshole all because Xtina decided she wanted to wear its pink tail in her hair - Lainey Gossip
Is that Ian Bernardo snatching the attention away from Demi Lovato's tits? - The Superficial
Taylor Momsen had me at the lucite heel so I can't fully hate this - Hollywood Tuna
The Caca who stole Christmas - Towleroad
Deborah Ann Woll is nipple-shy (site NSFW) - Drunken Stepfather
Lorena Bobbitt must be proud - NYC Barstool Sports
Xenu, please - Celebitchy
Pussy (and dog) bombs - The Berry
Sofia Vergara has always had exquisite tastes in bikinis - ICYDK
Zachary Quinto in his chonies. That is all. - Just Jared
A star is born in Russia - OMG Blog
And Megan Fox is totally making that bottle of Smart Water even smarter just by holding it - Popoholic
Jakey Gyllenhaal just eating a sandwich by his lonesome - Popsugar
Doogie Howser goes after Victor Newman - I'm Not Obsessed
Simon Cowell giving his delectable fur titties some air - Holy Moly!
Paz Vega still exists! - Hollywood Rag
Diddy's words of wisdom - Cityrag
Friday, December 17th 2010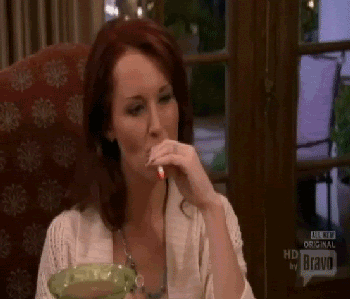 On last night's The Real Housewives of Beverly Hills, Camille Grammer threw a dinner party and introduced everyone to one of her best friends Allison Dubois, an alleged SLYCIC who is the inspiration for the show Medium. And something tells me Allison is also the inspiration for Niki Smith on One Life to Live, because the bitch makes the word CRAZY get on its knees and pay homage to her insane greatness. If jelly beans are the fuel that keeps Kelly Bensimon's crazy running at warp speed, then electronic cigarette smoke does the same for Allison. But before we fully wrap ourselves in aluminum foil and roll into Allison's pool of insanity, let's set things up a bit.
Camille hosted a dinner party at her house for the entire cast including Kyle Richards who she had a war of words with in NYC a few episodes ago. They got into it because Camille swears on her favorite pair of neon biker shorts from her Club MTV days that Kyle said some shit like, "Why would anybody be interested in hanging around with you without Kelsey?" Kyle might be basic cable's answer to Demi Moore, but it's obvious she never said that. So last night was the first time the two faced off again and Kyle brought her friend, the one and only Faye Resnick. Or at least they say it was Faye Resnick, but I have my suspicions that it was actually a Glade candle carved to look like Ari.
And Camille invited Allison DUBIOUS thinking that it would make things interesting. Well, shit got real interesting when Faye and the other siliconelings started to beg Allison to give one of them a psychic reading. Allison kept whining that her ass wasn't on the clock, and Camille even tried to stop it by saying that the other girls might not like what the ginger Miss Cleo has to say.
The best part was when Camille said some shit like, "You know she might tell you that your husband is screwing around on you." HAHAHAHA! Meanwhile, Kelsey is on the other side of the country bobbing his head on his side piece's crotch while Camille bobs her head during dinner. I mean, what the hell kind of GD psychic doesn't know that their supposed best friend's husband is passing his dick around? The crystal ball in Allison's head must have been purchased from Spencer's Gifts, because you'd get a more accurate reading from a Magic 8-Ball that was just ran over by a tractor trailer. Hell, one of Walter Mercado's toilet floaters could give you a more accurate reading.
Eventually, Allison gave in and told Kyle that her husband will never emotionally fulfill her and that she needs to tear down her wall to women. This led to Camille and Kyle going at it again, which led to Faye and Allison going at it, which led to the city declaring the room a toxic disaster zone after a cloud of boiled silicone fumes and burnt weave chewed the wallpaper off. Here's a long ass clip of that mess:
That stupid fucking electronic cigarette! Who the hell puffs on an electronic cigarette thinking that it makes them look like some diabolical Bond villain? Bitch, you ain't Kunty Karl and that e-cig is not a fan! Seriously, it might as well have been a candy cigarette. And as much as Camille will always hold a special place in my heart, her face looks like a discount porcelain dragon figurine covered in dehydrated tangerine peels. And every time someone talks to her, she gives the same bewildered look my dog gives when I tell him my problems in the middle of the night. Camille could've saved the party by busting out her moves, but sadly she didn't...
And at the end of the episode when Allison's drunk ass blurted out, "Wait until one of their kids disappear and then they'll come running back to me....", Andy Cohen got the leaks as he reached for the contract to sign that crazy bitch up as a regular next season.
Friday, December 17th 2010
And a HO HO HO to you too! Here's Santa's sexiest helper Amanda Lepore roasting chestnuts on the open fire known as her beauty at last night's Chandelier Creative holiday party with Lorenzo Martone and Michelle Harper.
Dear Xtina, this is the look you've been trying so desperately to achieve! The red lip lacquer has to look like it's made of equal parts liquid polyethylene, crushed ruby dust, melted Twizzlers and a freshly plucked cherry donated by a pristine virgin. Lips so sticky and sweet that it would take the biggest pair of pliers just to pry you off if you kissed her (not that you'd want to be pried off). If Amanda blew you an air kiss, you'd have to dry clean your skin just to get it off (not that you'd want it off). That is how you do red lips.
And don't get me started on her chocolate dipped eyebrows of perfection or the thin layer of diamond dust sneezed out of a unicorn's mouth that is covering her entire face. Xtina needs to pull up a chair and study up!
Friday, December 17th 2010
Wrecker is an actress, and she is only interested in men who are good-looking, famous… and who are already in relationships with other women. While she is working with your man, she goes to work on him. She's clever about it too. She will pal around with him rather innocently at first, then gradually seduce him with home-baked goods, sweet smiles, pouting, hair-tossing, and compliments. She always waits for him to make the first physical move. Once that happens, she will have his pants off so fast it would make your head spin. She is directly – yes, directly – responsible for wreaking havoc on three celebrity couples in the past three years. (Blind Gossip)

In her defense, I'd make out with her too if she brought me a freshly frosted blondie bar. I'll guess

Blake Lively

? Because she kind of looks like she giggles all flirty-like when she unwraps the cellophane off the plate of cookies she baked. You know, like "

Ehehehehe, I bet you'd love to unwrap my cookie.

" Oh, and apparently Blake Lively is addicted to baking and shit.
According to a source, this aging male singer who was on the television circuit for a while was cruising for male prostitutes on a daily basis until he contracted a very serious STD. He now is so terrified of this happening again, he allegedly only goes online for steamy chat sessions. (BuzzFoto)

Don't hassle

The Hoff

...unless you're D/D free. Or this could also be

George Michael

? That's probably too easy. Or

Donny Osmond

?
Which prettyboy TV actor got everyone at NYC club SL gossiping when he was spotted in a dark corner locking lips with a young blonde… guy?! "They were openly kissing and cuddling up together for some time," an eyewitness tells Star. (Star Magazine via Blind Gossip)

Obviously, Ed O'Neill, but probably

Chace Crawford

?
Friday, December 17th 2010
Not to be outdone by Taylor Swift and Jakey Gyllenhaal, Joe Jonas and his face merkin of the moment Ashley Greene held hands while making their way into The Lion restaurant in NYC last night. The only real problem I have with this relationship is that it seems like as soon as Joe Jonas welcomed Ashley into his life with a simple signature on a contract, his jeans have gotten baggier and baggier. Joe's jeans used to be so tight that you could practically hear its threads screaming for mercy with every strut he took. Joe's jeans used to be so tight that you could perfectly see if his butt cheek was Tajazzled or not. And now look at this shit! Ashley is CHANGING HIM!
Joe's jeans are quickly going from "sucking on to his ass as though his b-hole is the portal to denim heaven" to almost hitting the ground. It won't be long before Joe's jeans are sliding down his bubble butt. Although.....now that I think about it, maybe that's not such a bad thing. Then Joe can take his sweet sexiness to the next level by working one of those new saggy pants garter belts:
Yeah, forget everything I said about his jeans not being tight enough. Sag faster, Joe!
Friday, December 17th 2010
I'm already feeling ill from overdosing on vitamins and that Sambucol crap so that I don't catch the flu that is screwing everyone's life, and seeing this old picture of Sam Lutfi's nasty ass with a bag of juicy deliciousness in his hand is not helping. Oh, In-N-Out, why do you have to be such an easy whore with no standards (Future flash: My mother will say the same thing to me over whole wheat crepes when she comes to visit next week). So...
Yesterday, TMZ told us about how Betty Ford has moved Lindsay Lohan into a super secret private location after she kept getting threatening calls and text messages from an unknown stalker. My guess was that on the other side of the split screen was White Oprah (or Michael Lohan) in a Scream mask. But apparently, I am wrong. TMZ has it on good authority that a diarrhea blast from the past is behind the calls. Sam Lutfi has crawled out from under a pile of Brit Brit's pink wig, empty Frapp cups, tufts of London's hair and Carla to go after Lindsay Lohan!
Sam, who Daddy Spears blames for drugging his little Cheetoling, has been regularly talking to Michael Lohan about who knows what. Sam has also texted LiLo as "Mike from TMZ" and warned her to stay away from White Oprah. Sam denies all of this and claims that LiLo's handlers also handle Brit Brit's business and they are simply out to git him for good. LiLo's lawyer has warned Sam to stop texting LiLo and to stay away from her.
Sam Lutfi is a creepy crazy (exhibit A: he talks to Michael Lohan) who would shave and lude-up a kitten if it put him in good graces with the death eaters, but he has a point about LiLo needing to stay away from White Oprah. When everybody including a life sucker with bloated Paladinoface thinks you should step away from White Oprah, maybe it's time to explore that thought.
Friday, December 17th 2010
Tony Romo, whose name always makes me crave ribs and lemon-scented moisties, has joined the race to the altar with his girlfriend Candice Crawford (the pretty princess on the left), sister of Chace Crawford (the PRETTIER princess on the right). People reports that Tony and Candice have put on their hitchin' sneakers and lined up next to Jessica Simpson (and her dude) and Nick Lachey (and his chick) at the wedding starting line. Boom.
30-year-old Tony proposed to 24-year-old Candice during her birthday party at Five Sixty Restaurant in Dallas, TX last night. This is some SHOTS fired shit, because Tony proposed to Candice on her birfday and dumped Jessica on hers. If you think that's a slight drop kick to Jessica's fupa, here's the ring Tony slipped on Candice's finger. It's almost as big as the stone that just formed in Papa Joe's kidney from stressing out about getting his daughter to a "Weez Married" cover of OK! Magazine first.
But Papa Joe shouldn't even try, because I have a feeling that John Mayer is going to beat all those bitches. Don't be surprised if you see the headline: "John Mayer marries Dane Cook in a beautiful Iowa ceremony." Double fucking whammy.
Friday, December 17th 2010
After hundreds of years, a dozen on-air silent farts, a million awkward pauses and even more name slip-ups, the real-life Team America puppet that is Larry King closed the tattered red velvet curtain on his CNN show for the final time before slithering into the caves to devote all his time to ruling over the Sleestaks. Even though CNN gently scooped up the Lizard King into a dustpan and released him into the backyard to frolic freely in the greenery, he said that he will come back to host a special every now and again. Gawker TV has put together the greatest moments from Larry's final bow, but my favorite is the one above where one his kids busts out an impersonation of him.
Sean Astin should thank his EVERYTHING that this kid was not around in the 1980s, because dude would've snatched away his starring role in Goonies. Seriously, these kids would've nailed every single audition with John Hughes and then some. They look like two child stars circa 1984 down to the way they're dressed. I see a Stand By Me remake in their near future.
Farewell, Larry! Now you can openly shuffle around all day long with only a pair of suspenders and a banana hammock (with a built-in Werther's Originals pouch) on without some dumb interns with weak stomachs running in fear for the nearest church. None of that anymore!
And here's who came out last night to toast to Larry: Leeza Gibbons, Natalie Cole, Jane Seymour, Jane Fonda with Richard Perry, Krissy Snow, MARY HART, Debi Mazar, and Wendy Williams.