Archives
Wednesday, June 8th 2011
Elisabetta Canalis has lasted muuuuuuuch longer than the expiration date some hos stamped onto her nalgas after she started dating George Clooney two years ago. Does this mean that George Clooney is actually going to break his vow to bachelorhood and make Elisabetta Canalis his second wife? Naw. It probably just means that Elisabetta Canalis has the shit that makes George Clooney's prostate quiver. Straponmatized. But Elisabetta is getting bold and told the Italian magazine Chi that she knows she'll be married one day.
Elisabetta also summoned a Clooney side-eye by saying that all that talk about George being allergic to wedding bands is ancient history. As Sarah Larson prepared Elisabetta's bunk in the halfway house for George's ex pieces, she said this to the magazine:

"Whenever I see my picture in a magazine I know what is being written. They all say that I spend my time organizing parties and that my boyfriend does not want to marry me and be with me anymore. My boyfriend has not given an interview on his private life since 1999 - everything that you read is just a rehash of stuff that has been written in the past. I am a firm believer in marriage, in the future I will be married, but for the time being I am happy as I am. I don't need anything to confirm how happy I am."
I want the head juror in Casey Anthony's case to announce that she's not guilty and wait until Nancy Grace explodes into a million pieces before saying "PSYCHE! GUILTY!", but that doesn't mean it's going to happen. If Elisabetta wants to get married then she's barking up the wrong peen. The chance of Rosemary Clooney rising from the dead to marry Elisabetta Canalis in the middle of a unicorn forest is likelier than George Clooney marrying her ass.
via UsWeekly
Wednesday, June 8th 2011
When Botox Mom turned out to be Hoax Mom, I figured it was only a matter of time before other shameless moms started flashing their fuckery under the brightest street lamp on the ho stroll. Well, it didn't take long. 50-year-old Sarah Burge (aka The Human Barbie) bragged to Closer Magazine that for her daughter Poppy's 7th birthday, she got her a computer, a spa vacation, a crystal ring and a voucher for her to get a tit job when she turns 16. This shouldn't come as a shock since The Human Barbie openly bragged to the tabloids last year about how she teaches Poppy how to work the stripper pole. Yes, Kris Jenner you have found your spirit animal in Cambridgeshire, England. Run to her.
Wayland Flowers Ghost stuck his hand up The Human Barbie's ass and got her to say, "Poppy begged me for a boob job, so I gave her the voucher so she can have it after she's 16, when it's legal. If she develops naturally big boobs, she can have something else done with it. Some people think it's controversial and I get angry when strangers say I'm a bad mother because I don't think there's any harm in giving her this gift. Poppy is a normal kid who is good at sports and loves playing outside. Girls don't want Snow White and Cinderella any more. They want to be WAGs and famous like Cheryl Cole and Lady Gaga. I'm just supporting her and making her dreams come true."
Poppy told Closer that all her friends are jealous and she really can't wait to get Hefty bags full of silicone stuffed into her chest like her mom!
The Human Barbie, who makes her cash from writing erotic, throwing swingers parties and murdering her daughter's childhood for a tabloid check, has spent over $100,000 on plastic surgery to look like Barbie. Yes, Barbie. Bitch looks more like a warped Stanley Ipkiss doll in Blaine's weave and Moxie's dress, but I guess that's close enough for her.
I wouldn't say you were lying if you said The Human Barbie is a monstrous mound of dead flesh who shouldn't be in charge of raising an old breast implant, but come on. A voucher? Really? Poppy should've told The Human Barbie the same thing my mom told me when I gave her a "free car wash" voucher for Mother's Day one year: "You spent all your allowance money on Pop Rocks and Wuzzles, right?"
This Madam looking creature only got her daughter a tit voucher so that the tabloids and stupid blogs like this one can give her some attention. A voucher ain't worth shit. But Poppy should still hold on to that voucher and use it when she's 16 to get a face transplant surgery so nobody will ever know that she's related to The Human Barbie.
And part of me thinks this is just a performance art PSA produced by Child Protective Services.
via Daily Mail
Wednesday, June 8th 2011
The Mirror broke its oath to always tell the truth by publishing this headline today: "Prince Harry chats up gym buddy Cameron Diaz"
My initial reaction to this charbroiled turnover of lies is best expressed through this GIF: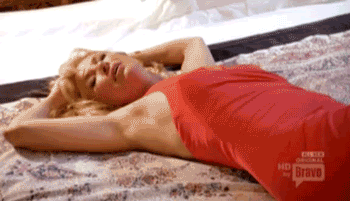 After I stopped my heart from attacking itself by shooting Pinot into its veins, I read the rest of the fan fiction The Mirror came up with after getting stoned on red weed. The voices in their heads say that while Cameron Diaz is filming the movie Gambit in the UK, she's keeping up the six-pack on her ass cheeks for A-Rod by working out at some super fancy and exclusive gym. This is the same fancy and exclusive gym where Prince Hot Ginge apparently works out. You know where this is going so I'll just let this source take it from here:

"Since first clocking one another and saying hello, they have coincided visits on two further occasions. During the second one, they were pounding along on adjacent treadmills and Harry cheekily nudged-up Cameron's speed dial, suggesting a one kilometer race. Cameron agreed... and won. They have become pretty friendly – Harry even invited his new gym buddy out drinking with him and his Sloaney chums."
If that quote was a Billy Idol song, it would be called LIES WITHOUT A FACE! The Mirror is really trying to make me believe that a mere mortal like Cameron Diaz was next to a sweaty Prince Hot Ginge and she never stopped to get a jar so she could collect his salty pore nectar to bathe in later? That's what anybody would do. The Mirror also wants me to think that Prince Hot Ginge would actually be seen with a raggedy, Dorito-faced, droopy-eyed womp womp bitch? Oh, wait. Shit. God save this queen because I'm about to have a heart attack sequel.
Wednesday, June 8th 2011
What HBO star is going to be coming out of the closet soon???? (Perez Hilton via Blind Gossip)

As much as I want to believe that God will show us he exists by making this blind item be about

King Robert

from

Game of Thrones

, it's not. It's not

ASkars

either, so you can quit praying.

Word is that when Ryan Kwanten isn't playing coochie collector Jason Stackhouse on True Blood, he's playing with peen. I'll believe it when I see his cover of People Magazine.
What young TV star broke up a big Hollywood relationship and also found time to sleep with another married Hollywood icon, though his marriage miraculously stayed intact? (La Daily Musto)

Blake Lively

,

Ryan Reynolds

&

Ben Affleck

(but calling Ben Affleck an "

icon

" would only make sense if Ben Affleck wrote this blind item)?
Which extremely hot athlete-turned-actor is a big old gay, and not at all a tight end about it? (La Daily Musto)

Vinnie Jones

?
Wednesday, June 8th 2011
Hayden Pantiesupintheair immediately denied the rumor that Mark Sanchez tossed her across the room, ran to the other side and caught her gnome-gina with his peen. UsWeekly says that Hayden is telling the truth about that, because she's getting on a different player from the New York Jets. The tramp of the treasure troll world was seen yesterday in West Hollywood with the Jets wide receiver Scotty McKnight.
A source says that when Hayden was seen at In-N-Out with Mark Sanchez on Memorial Day in Laguna Beach, Scotty McKnight was with them. When UsWeekly asked Hayden about the Mark Sanchez thing a few days ago, she said, "I'm a huge Jets fan and became very good friends with Mark and his buddies. I've always been that girl who has a lot of dude friends. I'm into sports so we have a lot in common."
If Hayden is the pass around patty for the New York Jets, I swear I'm going to go into the enchanted forest and beg the wish fairy (or Gay Al) to turn me into a dolphin-loving, stumpy elf who has the boyish charm of Cathy Rigby. Some trolls get all the luck (and football dick).
Hayden is starting a serious athlete fetish. If she traded her soul and morals in for a hippo ass, a Species face, and a whorey baby voice, Kris Jenner would totally adopt her.
Wednesday, June 8th 2011
You know how you were three winds to the sheet (you were so tanked you didn't even know the correct saying) last night and wished nobody was watching you after your drunk face ate concrete? They were and now you'll definitely be nominated for The Hoff Award for giving the most graceful performance of the year! - The Daily What
Romeo, romeo, where for art the paps so they can get pictures of our asses together? - Lainey Gossip
Taylor Momsen still think she's the prostitot trash version of Vanity - Hollywood Tuna
Chris Evans has prematurely started the Jude Law phase of his life - The Superficial
Things the world did not need: The Biebershop Quartet - Towleroad
Christy Turlington is greasy, flexible and not nipple shy (site NSFW) - Drunken Stepfather
Something tells me JLo wore that same dress to her high school prom - Celebitchy
Gwen Stefani retires her solo career - Popsugar
Maggie Q at her audition for the role of Grandma Addams - Just Jared
Awkward Kristen Stewart is awkward - Popholic
Kim Kardashian threatens to sue the hand that feeds her fat famewhoring ass - ICYDK
A voice like Susan Boyle and a rack like Simon Cowell - OMG Blog
Suri Cruise ain't impressed - The Berry
Lindsay Lohan has it hard - Celebslam
Mayor Alec Baldwin is not in New York's future - Videogum
Romance is butt banging your piece by the pool - Hollywood Rag
Rides of the rich and asshole-ish - Cityrag
It's not what it looks like! Dude just has something in his teeth and Kirstie Alley is helping a bitch out - I'm Not Obsessed
Wednesday, June 8th 2011
Above is just a short clip (click here to see the whole thing) of the surprise lip dub to Don't Stop Believing the entire cast and crew (plus Jimmy Fallon and Abe Vigoda) of the Today Show busted out for Meredith Vieira on her last day on the job. Matt Lauer started things off by changing into an "Matt Hearts Meredith" t-shirt before he handed her off to someone who handed her off to another ho like she was a baton in the most annoying marathon ever. Eventually, Kathie Lee and Hoda led Meredith into the street and directly into the pathway of a speeding truck since they were both fucking drunk. No, that didn't happen, but it might as well have!
If I was Meredith, I would not want to spend my final day watching my soon-to-be former co-workers badly lip-synch to a song that stopped believing in itself when the cast of Laguna Beach butchered it in the limo. Her last day should've been spent raiding the storage closet (or Kathie Lee's liquor cabinet, in this case) and cursing out the co-workers she's always wanted to curse out. It's not your last day until your drunk ass is being dragged out of the building by security while shouting, "I HATE ALL OF YOU! SEE ALL OF YOU IN THE OTHER HELL!"
If I was Meredith, I'd ask for a reboot.
Wednesday, June 8th 2011
Suri Cruise is the daughter of a Scientology queen and a robot who played American royalty in a TV miniseries once, so you would automatically expect her to cover her precious princess feet with the finest shoes that Tommy Girl's money can buy. And she does! That's what Star Magazine (via news.com.au) says. A source says that Suri's shoe collection is so massive and luxurious that it is worth more than some people's three bedroom home in Santiago, Chile (everything I learned about the price of real estate I learned from HHI).
Warning: Get ready to feel whatever emotions one feels when finding out that selling a 5-year-old's shoe collection could pay off your student loans. Apparently, Suri's got a $150,000 shoe collection. The source put it like this:

"Suri has so many designer shoes. She's a massive fan of Marc Jacobs and she's had several shoes custom-made, so if they didn't come with a heel, Katie had them redesigned for Suri. She commissioned a pair of Louboutins for her a while back. She cries if Katie reaches for anything but a little pair of sandals with some sort of heel.

It's hard keeping up with a growing girl. Suri sometimes picks out the shoes her mum should wear, and then picks out shoes for her dad. They genuinely seem to value her opinion and want her to make her own decisions."
Maybe it's because Veruca Salt is my favorite Charlie and the Chocolate Factory character, but I don't see the problem with this. If Katie and Tommy want to raise a spoiled snowflake who will eventually get arrested for slapping a Saks salesperson after they tell her they don't have her size, let them! Zsa Zsa Gabor is this close to skipping up the crystal drops to heaven and she needs a diva successor! Suri is that successor! So I say, keep on being shit parents, Tommy and Katie. Keep on!
Besides, when Suri outgrows her heels, she can give them to Tommy since they're just his size. Suri is not only helping the economy, but she's also being green!
(Thanks Nelson)
Wednesday, June 8th 2011
The media has been hitting us over the head with Anthony Weiner's peen for over a week and now we can finally look up to see what's been fucking with our brains. The guest of honor that got Anthony Weiner into this mess finally took its place at the head of the Internet table. Blogger Andrew Breitbart, who had been holding onto Wiener's dick picture as insurance, let the dick slip on Opie & Anthony's Sirius show today.
The picture lets you know what it would be like if you were drunk and were about to lick on Weiner's huge donkey nuts during an earthquake. Meaning: it's blurry and taken from the beej giver's point of view.
You know it's Weiner's because it leans to the left. But shit is so out of focus that if you told me it was CoCo frolicking into the white foamy waves, I'd probably believe you.
(Not safe for anyone planning on not ordering the Jewish chorizo for lunch) Click here to see it. And now I can say with complete confidence that I've done my part for my country.
via Buzzfeed
Wednesday, June 8th 2011
Jennifer Connelly gave birth to her third child and Paul Bettany's second at their home in New York City on May 31st and they had themselves one of those Slip 'N Slide births.
Jennifer's rep tells UsWeekly that she birthed out a daughter they named Agnes Lark Bettany during a planned home water birth in a birthing pool. The rep then issued the usual ole' canned response by saying they're all happy, they're all healthy and they're all covered in a dried thin layer of placenta water.
Ricki Lake's documentary on birthing babies made me believe that pushing out your womb refugee over a kiddie pool in your living room is the way to go. There's no fluorescent lights and no nurses trying to shave your poon before it's about to explode. You get to be Erykah Badu for a day by letting out your inner earth mother as you waddle and moan around your own house. You can get real and you can get ugly without judgements. And if you want to make sure that your newborn comes out with its eyes firmly shut, just let your man nibble on the nipple a bit.