Michael Jackson
Tuesday, May 7th 2013
Choreographer Wade Robson, who's worked with Brit Brit and 'N Sync, has thrown a lawsuit at the Michael Jackson Estate claiming that Michael Jackson child touched him when they spent time together at Neverland Ranch. During Michael Jackson's molestation trial in 2005, Wade testified that MJ never touched him. During that same trial, MJ's housekeeper at the time testified that she caught him and Wade showering together once. I was going to scream ESCANDALO, but sadly, this isn't escandaloso at all.
TMZ says that 30-year-old Wade, who's also a choreographer on So You Think You Can Dance, first met Michael Jackson when he was just 5 years old. Wade sort of became Michael Jackson's protégée and he started sleeping at MJ's houses including Neverland when he was 7 and he stopped sleeping over when he was 14. On May 1st, Wade's lawyer filed a late creditor's claim against the Michael Jackson Estate for a never-before filed sexual abuse complaint. The complaint is under seal, so none of the details of the case are available to public eyes.
Wade is asking for an unspecified amount in damages.
I don't know what to think about this and reading the comments at TMZ didn't help. They range from "Wade broke Britney and Justin up and now this!" (I'm not joking) to "The Michael Jackson Estate should sue him for slander!" to all sorts of other shit. Who knows what details are in that complaint, but I'm sure that as I'm typing this, Detective La Toya is crawling through the vents of the court house and will drop into the file room to get her leather-gloved hands on that file. Detective La Toya will get to the BOTTOM OF THIS AND EVERYTHING ELSE! (Or she'll just say whatever the Jackson family lawyers tell her to say. Either or.)
Tuesday, July 24th 2012
And it keeps getting messier. The executors of Michael Jackson's Estate and his three kids, Prince, Paris and Blanket all want the court to give Tito's son and the Hot Slut of my heart, TJ Jackson, temporary guardianship, because they believe that their aunties and uncles have kidnapped Katherine Jackson. Meanwhile, Katherine Jackson is far from the drama in Arizona and busy worrying about whether or not she's going to beat Rebbie's ass in a game of Uno.
TMZ says that 34-year-old TJ Jackson, who is married with two children, is having his lawyers put together the legal documents and he's expected to file them any day now. Michael Jackson's Estate and MJ's kids all want TJ to take over as guardian until all this messy drama gets cleaned up. If it ever will (this is the Jackson family we're talking about, it never will). All of this went down just hours after Janet Jackson went crazy on Paris Jackson by trying to snatch away her cell phone.
So if the kids want the always gorgeous TJ Jackson to be their guardian, does that mean Tito isn't in on the kidnapping scheme? Or maybe the kids specifically said they want TJ Jackson's luscious otter brows to be their guardian, because his eyebrows would probably do the best job and they look pretty maternal. And you might be wondering where Detective La Toya is in all of this. Shhh, don't say anything, but she's deep, deep, deep undercover and is creeping through the cobblestone streets to get to the bottom of EVERYTHING. Don't blow her cover!
UPDATE: Tito Jackson has dropped out of Team Take Over MJ's Estate and is no longer trying to overthrow the executors of MJ's will. Tito better run, because Janet Jackson isn't playing anymore and she's so going to get him for this.
Monday, December 26th 2011
Merry Christmas, here's a chillingly accurate reminder of your dead son. Mrs. Jackson has always struck me a kindly old woman trying to stay a kindly old woman whilst surrounded by various crazies (Detective LaToya) and assholes (her husband, Detective LaToya). She probably gives stellar hugs, you know? Sure, she'll pose with someone representing what is surely one of her most painful memories if you want her to. She'd probably pose with a Dr. Conrad Murray impersonator wielding a syringe if it keeps the peace and lets her get back to her stories.
Monday, November 7th 2011
Just a few days after Michael Jackson's death, Detective La Toya slipped on her monocle, crept through shadows and vowed to catch and bring to justice the murderer who killed her precious brother! Cut to today, a jury just found Dr. Conrad Murray guilty of involuntary manslaughter. Dr. Con will have to sit in a cell until he's sentenced on the 29th.
La Toya always gets her man. Watson (aka Blanket), get Detective La Toya's pipe ready, because she will be taking a few victory puffs when she gets home. RELEASE THE DOVES!
Tuesday, August 30th 2011
David Gest really needs to keep his bestiality fantasies involving Bubbles, Whitney Houston and Michael Jackson to himself, because the world doesn't want to know the SUCIONESS that slithers around in the gutters of his imagination. Okay, maybe we do, because if he did keep that mess to himself we'd never have this hilariously creepy story about a chimp's toe sucking fetish. This is what David Gest said during a Michael Jackson documentary that's supposed to air in the UK this October:

"Whitney was having dinner with Michael at his Neverland home when she accidentally dropped her knife under the table. While Michael was retrieving it for her, Whitney felt her toes being sucked. She moaned, 'Michael, is that you? Don't stop. That's so sensual'. Yet Michael's head popped up and her toes were still being sucked. It turned out it was Bubbles."
HAHAHAHA. David needs to show us the receipts or shut his second face, because this really reads like bad fan fiction. Like Whitney would ever use the word "sensual." Bitch isn't Courtney Stodden! Whitney would say something like "Ooooh, baby, suck the dirt out of that nail!" or "Get that jam like your tongue is peanut butter and we're trying to swirl up some Goobers!" or "When you're done there, baby, use that sweet suction cup mouth to suck out my doodie bubble, because I got a boatload with a stuck anchor."
Wait. Maybe that's why they call him BUBBLES?! Shit. Good. Night.
via The Mirror

Saturday, July 2nd 2011
A couple of days ago, Sweetas brought us the news that Aaron Carter opened his mouth on the face that meth built about his time with Michael Jackson, and what he said made the glass on Detective La Toya's monocle fog up and crack. Daphne Barak from OK! Magazine Australia alleged that Aaron told her the late Michael Jackson fed him wine and cocaine when he was 15. But wait, Aaron tells TMZ that he never claimed that MJ sedated his 15-year-old body with the bad shit and dropped a red wine waterfall down his froat.

"Nothing was said that was reported."
The Ghost of Justin Bieber's future pointed to a YouTube video of the interview where he doesn't mention anything about MJ feeding him coke. But Daphne stands by her story and still claims that Aaron told her "that Michael Jackson gave him alcohol and cocaine while he was 15. He also said that Michael invited him to sleep in his room, and when Aaron woke up at 5:00 AM, he found Michael on his bed."
This is absolutely ridiculous, offensive and is making me do the moonwalk towards Daphne's face so I can slap the wrong out of her! MJ never gave Aaron coke or wine. Why would MJ ever do such a thing? That's not only illegal, but it goes against ever fiber of MJ's moral being. How dare Daphne throw those hurtful accusations around! We all know that MJ only served Jesus Juice and the White Dust of Christ to minors. DUH!
Wednesday, June 29th 2011
Well, well, well-UH. Aaron Carter dropped a few bombs (and maybe some acid) on Michael Jackson in an interview with OK! magazine. In a candid interview, he comes clean (actually, I don't think you could ever come clean again, but I digress) about his time with the late pop icon. Apparently, they had a really close relationship, in which MJ gave him wine, the bad shit, and maybe more. Here are a couple of quotes from Aaron. Don't read into them (totally read into them).
"I never talked about it… This is the first time. I do… I miss Michael… I have spent such incredible times with him. I did things with him that nobody else did… But I was also troubled about what he did to me."
Me: What he did to me??? wtf??? Moving on...
"Yes, he gave me wine. I mean, I could have refused, but I was 15."
Ahem. Maybe Michael just had a European view of wine? More...
"He gave me cocaine. I felt weird about that and other stuff… We spoke afterwards, hours and hours, on the phone. I admired Michael, but his behaviour bothered me a lot. Then my mother called the police..."
UM. Other. Stuff. And then his mom called the popo. I'm sure it was all good clean wholesome fun! *side eyes MJ's ghost*
You know, I may be understanding Aaron Carter's um, "issues" a little bit better at this point. I'm not saying MJ did anything inappropriate, unless you call giving minors wine, coke, and "other stuff" inappropriate. I think I'm gonna go bathe in bleach now.
Thursday, May 5th 2011
If you told me that Michael Jackson, Elizabeth Taylor and Marlon Brando fled New York City in a rental car after 9/11 and made several pilgrimages to KFC, I'd beg you to stop hoarding the acid tabs and please put one on my tongue like Eucharist time at a rave so that I can see this vision for myself. And this is exactly what I'm saying to Sam Kashner, the Vanity Fair writer who told this story in an article for the magazine on Elizabeth Taylor's life. The geniuses at Next Media have already turned into a Taiwanese CGI short film for you to get high on.
On September 10th, 2011, Michael Jackson performed in a sold-out concert at Madison Square Garden. MJ originally wanted his friends Elizabeth Taylor and Marlon Brando to sit on opposite sides of the stage like two Easter Island idols, but they decided against it. They sat in the audience instead. Cut to the next morning. After the attacks, MJ's friends from Saudi Arabia told him to get the fuck out of NYC because there would be more assaults in America. MJ grabbed Marlon and Elizabeth and the three tried to get a private plane to take them back to California, but the air space above the country was closed for business. Instead of taking a bus or a train or a solid gold chariot led by white Persian horses, the three got into a rental car and drove far away from NYC! The Hertz agent who rented them the car is still trembling under the counter wondering what the fuck just happened.
I'll let Sam Kashner lead you through the rest of this fuckery-laced acid trip:

A former employee of Michael Jackson's says that Michael, like General Washington, led his entourage to a temporary safe haven in New Jersey, before the three superstars took to the open road. "They actually got as far as Ohio—all three of them, in a car they drove themselves!" he recalls. Brando allegedly annoyed his traveling companions by insisting on stopping at nearly every KFC and Burger King they passed along the highway. One can only imagine the shock their appearance caused at gas stations and rest stops across America.

But one of Elizabeth's close friends and assistants, who asks to remain anonymous, insists that Elizabeth did not flee New York with her two companions. "Elizabeth stayed behind," he insists, "where she went to a church to pray, and she went to an armory where people were who couldn't get home or who'd stayed behind to look for the missing. She also went down to Ground Zero, where she met with first responders. Eventually, the airports opened and she flew home." She may well have done some of those things, though no reports surfaced in the media of sightings of Elizabeth Taylor ministering to the frightened and wounded or showing up at Ground Zero.
The image of Marlon Brando NOM NOM NOM-ing on fried chicken skin in the passenger seat while Elizabeth Taylor pumps gas and Michael Jackson hovers over a Thomas Guide spread on the hood is one that I will bring up in my head whenever I need to flee from reality and fall into a fucked up hallucination. THE FUCK doesn't even begin... Even though this is most likely a work of fiction, it still needs to be made into a road trip comedy. Tyler Perry or Eddie Murphy can play all the roles.
Sunday, November 21st 2010
My feelings about the work of beauty above are best expressed through this Detective La Toya GIF: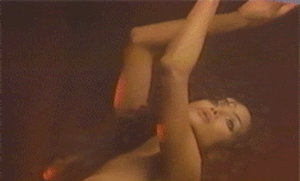 Monday, November 8th 2010
MichaelJackson.com released a new song called "Breaking News" they say Michael Jackson recorded at a home studio in New Jersey back in 2007. The song will be on a new posthumous Michael Jackson album coming out later next month. Sony is swearing on their everything that it's Michael Jackson's voice on the song, but several members of the Jackson family including Katherine, La Toya, Prince and Paris think it's an impostor voice!
Listen and judge for yourself:
You know, it could be Michael Jackson. But then again it could be Bubbles yodeling into a voice changer or patched together clips from Justin Bieber's baby monitor. I don't know, but I do know that the song better be shaking in its notes, because Detective La Toya has got her magnifying glass pressed firmly against her iPod and she's about to crack this shit wide open!
via Towleroad