Natalie Portman
Tuesday, April 30th 2013
Yesterday, it was announced that Michael Fassbender is going to play Macbeth in a new Macbeth movie, and I don't really see him in that role, but it sort of makes sense for him to play the King of Scotland since his dick is as big as the Loch Ness Monster. I secretly wished that they wouldn't mess up with the casting of Lady Macbeth, but guess what? Those hateful bitches did. Screen Daily says that when Macbeth starts shooting later this year, Natalie Portman will bring out her signature ugly cry to play Lady Macbeth. I'm sure William Shakespeare's grave is filled with only bone dust and a dusty lace ruff, but if lace ruffs can turn, I bet it's turning over this news.
Lady Macbeth is one of Shakespeare's hottest bitches, because she's a legendary schemer, is thirty layers of insane and if she was around today, she'd destroy all of those Real Housewives whores in a second. Natalie Portman can play crazy, because she is crazy, but she is no Lady Macbeth. Maybe one of Lady Macbeth's mute, bland handmaidens, but not Lady Macbeth. I mean, bitch didn't even serve cake at her wedding and you know Lady Macbeth rolled around naked on her own wedding cake. Seriously, anybody would be a better Lady Macbeth than Natalie Portman and here's a few better choices off the top of my brain:
1. Tilda Swinton
2. Nicole Kidman
3. Thandie Newton
4. Julianne Moore
5. Alan Cumming
6. Sweet Brown ("This spot? I ain't got time for that!")
7. Tanya Turner from Footballers Wives
8. Tan Mom
9. Liza Minnelli's clit
10. Meryl Streep in a coma
11. Harald Glööckler
12. Jinx Monsoon
13. Courtina Stodden
14. My Tio Jorge in drag as Celia Cruz
15. a plate of cold haggis
Basically, anybody but Natalie Portman.... Anne Hathaway.... Goopy Paltrow.... and Katherine Heigl. Oh shit, I bet they're going to cast Anne, Goopy and Katherine as the witches. Come you, spirits, kill me now!
Tuesday, August 7th 2012
The only answer to the question "Who in the hell doesn't serve cake at their wedding?" has sadly been answered. When Natalie Portman married that French dude who can tickle the air with his pointed feet, she had a strictly vegan menu, she wore an Italian toddler's communion dress circa 1964 and instead of delicious cake, she served French macarons. Some whores go to weddings to see two hos unite their love in front of God or whatever, but I only go to weddings for the cake (even if the cake is a sheet cake from Sam's Club) and for the open bar (even if the open bar is a plastic trash can full of ice bags and Coors).
People says that Natalie's reputation as a snobby leaf-humper of the highest degree remains intact, because she used local wildflowers instead of having flowers flown in and didn't serve anything that used to have a face on it to her 60 guests, which included Diane Sawyer, Mike Nichols, supposed heroin head Macaulay Culkin, Rashida Jones and Ivanka Trump. And again, she didn't serve CAAAAAAAAAKE!
I can eat a wooden bowl full of dehydrated baby's breath covered in kale foam as long as I know I'm getting some kind of delicious cake afterward. Yes, one can try to say that macarons are kind of like the French babies of CAKE, but it's still not CAKE. I wanna eat the mother! If Natalie Portman ever gets married again and you're invited to the wedding, make sure to call the local pizza place before the ceremony and tell them to meet you in the parking lot about 10 minutes into the reception. You'll be the one standing by the rented Dodge, holding the box of Little Debbie Zebra Cakes your ass bought at the nearest gas station.
When I first wrote about Natalie Portman's wedding, I was going to say that she probably each of her guests a baby tree as a parting gift. I was close, because she gave them a packet of wildflower seeds. WILDFLOWER SEEDS! That way each guest can plant those seeds in their backyard and every time they look at those flowers, they can think of how Natalie's cake-hating hippie ass drove them to suck down a log of Quarter Pounders smothered in Duncan Hines frosting at 3am in their hotel room. I mean, she didn't have CAKE! Illegal!
Sunday, August 5th 2012
I see you making a smug "My gold digger mission is complete!" face, Benjamin Millepied.
Natalie Portman and her ballerino piece Benjamin Millepied have been wearing wedding rings for months now even though they weren't married in the legal sense, but they changed all that last night when they said vow stuff to each other under a chuppah (not this Chupa) at somebody's house in Big Sur, CA. UsWeekly says they got married at around 8pm in the dark, but don't ask them for anymore details, because they don't have any right now. Even though no other details are known at this time, we can pretty much assume that Natalie's vows included some quote from a philosopher none of us know and in lieu of gifts the bride and groom asked guests to plant a tree or broaden their minds by buying and reading a book on a subject that is foreign to them. NO JOKE. One of my friends went to a smart people wedding and the bride and groom didn't want gifts, but they did want their guests to read a book and then to tell them about that book at the reception. Fuck that shit. I'm getting you a blender, bitch. This ain't school. I'm just here for the cake.
If I was a guest at Natalie and Benjamin's wedding, I'd be seriously disappointed if he didn't perform his vows through interpretive dance. I'd ask for a refund for the outfit I bought for that occasion. If the groom is a ballet dancer, I would to see some TWIRLS! And no word yet if during the couple's first dance, Natalie Portman did 85% or 5% of her own dancing.
Here's some pictures from June of Natalie, Benjamin and their 1-year-old kid Aleph strolling through Paris.
Tuesday, February 28th 2012
Natalie Portman and the pirouetting father of her Ivy League graduate baby (yeah, he already graduated) Benjamin Millepied silently announced that their asses are married when they wore their wedding bands to the Oscars on Sunday. Maybe their silent announcement was an homage to The Artist? Or something. Natalie would rather eat raw meat out of a leather wallet (no euphemism, she's veganese) than talk about her personal life, so there's probably not a chance in hell she's going to confirm this. But who needs Natalie to confirm this when her jewelry designer will do it for her. Jooree designer Jamie Wolf tells People Magazine that those rings are of the marriage kind and she made them for Natalie and her huzzzzzbeeeeeend.

Jamie Wolf confirmed today that she designed Natalie Portman and Benjamin Millepied's "wedding rings," she shares in a release.

Wolf created two diamond rings for Portman, made to fit on either side of her engagement ring, and a platinum band for Millepied. Both baubles are eco-friendly, made with recycled metals and conflict-free diamonds.
This marriage is going to last about as long as it takes me to do a full plié without farting (that could take a while, actually), so it was kind of smart of Natalie to not officially announce that she's somebody's wife. Because if she didn't announce the marriage, she doesn't have to announce the divorce in a year. Well, silently played, Natalie.
Monday, February 27th 2012
If you're one of the lucky ones who missed the Oscars and want a full-on recap, just pour a glass of lukewarm tap water into a paper bowl full of instant oatmeal and watch as it slowly slowly slowly cooks, because that's about as exciting as the boring mess some of us sat through last night. Everybody kept saying that last night's show was like Werther's Original night in the rec room of a Boca retirement home since it felt like a moth ball air kiss from the Academy to the olds, but saying that is an insult to memaws and papaws. The olds didn't like that shit either. Trust. The olds thought they were getting a dancing Billy Crystal, but because he's fucked with his face so much they got a dancing mummified Kim Jong-Il instead. Most of the olds probably took off their teefs and went to bed before Best Supporting Whatever was passed out.
But besides Meryl Streep's speech, there was a bright spot among the bleakness. It came when Jean Dujardin wiped the permanent smugness off of George Clooney's face by winning Best Actor. Then Jean Dujardin kept the tingles coming by face posing for his life in the press room with Meryl Streep. Jean Dujardin is damn fucking charming. He's like a skinny Gaston from Beauty and the Beast without the doucheness. Sometimes his face looks like he's starring in a toothpaste commercial from the 50s and other times it looks like he's watching two unicorn babies slide down a complete double rainbow in the distance. Jean's face is always set to magic.
Looking at him holding onto that Oscar trophy makes me think that he probably gives the most charming handjobs ever. I bet he smiles that twinkly smile the entire time and gives you an extra twitch in your crotch when he raises his eyebrow at you. Normally, I'd think that smiling while cumming is totally creepy, but it isn't when you do it with smile master Jean Dujardin. It's impossible to not feel happy inside when you're staring at a French man whose smile makes you hear cartoon birds singing and shit.
Wednesday, July 6th 2011
Natalie Portman gave birth to a future Harvard valedictorian, Nobel Peace Prize recipient, savior of the animals and Oscar-winning human almost a month ago and we haven't heard one thing about any of them. No pictures of Natalie smiling next to her perfect human baby and the completed illustrated book report he did on Pride & Prejudice in his own drool for fun. No talk of how Natalie's perfect human baby has already discovered the cure for cancer in his own piss. We don't even know his name! We don't know if she named him Natalie Portman's Perfect Baby Portman-Millipied or Hebrew National Dijon Portman-Millipied. But when you don't say shit, you can always count on your relatives to say shit for you.
One of Natalie's cousins tells an Israeli newspaper (via ONTD) that she's given her baby the name of:

ALEF!!!!!!
Alef is "A" in the Hebrew alphabet and apparently also means leader.
How is it pronounced? Is it pronounced "a leaf"? You know, like the thing Natalie pulls from the tree in her backyard and nibbles on in the middle of the field with a side of sun-baked sprouts as the woodland creatures happily dance around her because she's not eating their asses? Or is it pronounced "a lef." You know, like what Natalie is going to scream out at nobody in particular when Benjamin eventually twirls out of her life to get with a hotter slut in a tutu? "OH MY GAW! Benjamin A LEF ME!!!" No, since this is Natalie's baby, I'm pretty sure we have to pronounce it as: "our lord and savior."
Anyway, the name Alef Millipied is so Natalie (see: pretentious as fuck) and surprisingly I don't want to hiss at it. But maybe that's because if you drop the "e" in Alef, you'll have the name of a cat-eating hairy alien with a bread loaf nose.
Tuesday, June 14th 2011
In the middle of a Walmart in Oklahoma, Oscar-winning actress, Ivy League graduate and savior of the animals Natalie Portman gave birth to a son she has named Americus! No, but Natalie Portman and her fiancé Benjamin Millepied are now proud parents to baby boy she birthed out today.
People usually has every little detail down to how much the baby's brain weighs and if they made smoothies out of the placenta afterward (they didn't), but they don't have much this time. They don't have the name or anything else. This is Natalie Portman we're talking about so I'm guessing the name will be equals parts Jewish, French and pretension. Something like Y'hoshua Yves Portman-Millepied. Or maybe Woody Allen Baguette Portman-Millepied. It doesn't matter anyway, because in the near future we'll be calling her baby "overlord," I'm sure.
And how long before Natalie Portman's birthing double comes forward and says she only did about 5% of her own pushing?
Thursday, April 7th 2011
Natalie Portman's fiance Benjamin Millepied, Black Swan's director Darren Aronofsky and Mila Kunis all came to her defense after her ballet double Sarah Lane said that she only did 5% of the fully body dance shots in the movie. Benjamin said she did about 85%, Darren said she did 80% and Mila asked if you were going to smoke the rest of that joint. And now Natalie herself has slid down from her golden ivy throne to address the rumors. Although, not really.
While all of us were in the hall whispering about how many j'newhatevers Natalie did in El Cisne Negro, she busted in and let us know that she's not going to dignify such idle gossip with a response! Natalie straight up swept Sarah Lane under the rug and then put her Oscar right on top. While promoting that Your Highness shit, Natalie stuttered this out to E! News (click here for the video):

"You know, I, it's it's....um...I know what went on. We, we had an amazing experience making the movie and I don't want to tarnish it by entering into nastiness, because it's such a positive thing what we get to do. We get to create things. I feel so lucky to be part of that, and um, I'm so proud of everyone's work on that movie and my experience. And I'll have that forever. And and and and and it's important for me to remember that no matter what nastiness is going around."
Bitch is stuttering so hard because ever her tongue is leaping, twirling and pirouetting! Because she's a REAL DANCER! No, but this whole "show me the pirouettes" thing has gotten more annoying than Nicole Kidman breathing out "I love to dahnce!" in those stupid ass Chanel No.5 commercials. So let's just bury it in our dressing room closets once and for all. It's time that we focus on way more important things. Like a sad kitten in a bucket:
How sad is sad kitten in a bucket? Submit your percentages by the end of the day.
Monday, March 28th 2011
Natalie Portman's face in that picture scares me too. We'll hold each other later, but for now we have even more "SHOW ME THE PIROUETTES" business to tend to. Sarah Lane, the professional ballerina who was Natalie's ballet doubles in Black Swan, opened the doors to Pliégate when she said that the Oscar-winning ivy league saint didn't do most of the fully body moves in the movie. Natalie's piece/choreographer Benjamin Millepied slapped at Sarah's claim and said that 85% of the dancing in the movie came from his fiancee's body. Sarah came back and said it was more like 5%.
Now Black Swan's director Darren Aronofsky is joining the most boring math class ever and tells EW that his calculations show 80% to 90% of the dance shots are of Natalie herself. I'm just going to raise my hand and say that 100% of this ri-fuckin-diculous, but let's let Darren go up to the board and explain how he got to 80%.

"Here is the reality. I had my editor count shots. There are 139 dance shots in the film. 111 are Natalie Portman untouched. 28 are her dance double Sarah Lane. If you do the math that's 80% Natalie Portman. What about duration? The shots that feature the double are wide shots and rarely play for longer than one second. There are two complicated longer dance sequences that we used face replacement. Even so, if we were judging by time over 90% would be Natalie Portman.

And to be clear Natalie did dance on pointe in pointe shoes. If you look at the final shot of the opening prologue, which lasts 85 seconds, and was danced completely by Natalie, she exits the scene on pointe. That is completely her without any digital magic. I am responding to this to put this to rest and to defend my actor. Natalie sweated long and hard to deliver a great physical and emotional performance. And I don't want anyone to think that's not her they are watching. It is."
Natalie better pop some Dramamine into her unborn baby's mouth, because she's going to have to throw down in a TWIRL OFF! If Natalie wins, she gets to keep her OSCAH! If Sarah Lane, wins Natalie still gets to keep her Oscar because she won for doing acting stuff and not twirling stuff.
And Natalie was going to ask Sarah to do the pushing for her in her labor video, but she's totally changed her mind now!
Friday, March 25th 2011
Let's recap. Sarah Lane, an ABT soloist who was one of two ballet doubles for Natalie Portman in Black Swan, already said that she did most of the twirling and leaping in the movie, but the producers wanted everyone to believe that it was Natalie so they told her to keep her lips shut. Sarah didn't. Benjamin Millepied, the movie's choreographer and half of the reason why Natalie's got a womb full of baby, retaliated by saying that his fiancee worked her toes off to move like a real dancer and that 85% of it was her.
Well, Sarah Lane is back and is hitting back at Benjamin with a giant NOPE. Sarah tells Entertainment Weekly that Benjamin needs to look at his abacus again and recalculate some shit, because Natalie did about 5% of her own dancing. THE PLOT THINS! Sarah went on:

"The shots that are just her face with arms, those shots are definitely Natalie. But that doesn't show the actual dancing. They wanted to create this idea in people's minds that Natalie was some kind of prodigy or so gifted in dance and really worked so hard to make herself a ballerina in a year and a half for the movie, basically because of the Oscar. It is demeaning to the profession and not just to me. I've been doing this for 22 years…. Can you become a concert pianist in a year and a half, even if you're a movie star?

I mean, from a professional dancer's standpoint, she doesn't look like a professional ballet dancer at all and she can't dance in pointe shoes. And she can't move her body; she's very stiff. I do give her a lot of credit because in a year and a half she lost a lot of weight and she really tried to go method and get into a dancers head and really feel like a ballet dancer."
Benjamin answered back with: 85%
Sarah: 5%
Benjamin: 85%
Sarah: 5%
Benjamin: 85%
Sarah: Okay.
Benjamin: Yay.
Sarah: JK.
Benjamin: Damn. ......80%?
Are we really getting into the percentage game?! Sarah wants credit and Benjamin isn't going to give it to her. Or something. This is about as confusing as the damn movie. (SPOILER ALERT) When are we going to get to the part where when one of them stabs the other with broken glass and shoves 'em in a closet? Let's fast forward X10 to that part already. Actually, let's not. Instead let's go back and watch Winona Ryder say "Did you suck his cock? on a loop: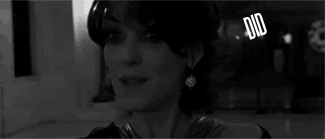 Now this is a game I like!
(GIF via Artistic Bitches)