Anderson Cooper
Sunday, January 16th 2011
The hardest working British mother in the world found time in her non-stop schedule of sending spoon fulls of citrus-flavored flax seed oil down Starfruit's throat and writing lists about lists to host Saturday Night Live last night. I pretty much had to hang upside down over the edge of my sofa and fill my mouth hole with bong water shots to get through it, but there was a silvery light in the middle of the GOOP sewer tunnel!!!
In between Fishsticks Paltrow making the animatronic children from It's A Small World cry with her butchering of every single language and accent, Mah Boo Anderson Cooper saved us all with an appearance in the digital short starring Andy Samberg and Pee-wee Herman.
Mah Boo is the sexiest shot-loving battery victim in TV history, right? A new fetish has been born.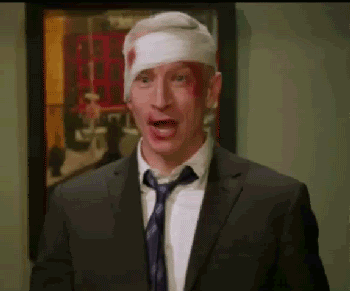 That GIF is pretty much going to swallow up all my time today since it looks like Mah Boo is excitedly ejaculating a shot glass. Grab a taller ladder, because I need to add another layer of love for Mah Boo.
Saturday, January 1st 2011
via @kathygriffin
Monday, December 13th 2010
The most eagerly awaited (by my loins) daytime talk show in the history of television now has an official name! Unfortunately, they ignored my title suggestions and went with Anderson. Yeah, just Anderson. No orgasm point or anything! Boring. Whatever, I'm still going to call it The "Don't Even Think Of Calling Me Right Now Because I'm Not About To Answer The Phone With A Hand Full Of Lube" Show.
via HuffPo
Thursday, November 18th 2010
Remember that picture of Mah Boo Anderson Cooper in a bunny suit that I took down to the court house and tried to marry on the grounds that if David Beckham can marry an inanimate object why can't I? Well, that picture MOVES NOW! Above is the clip of Mah Boo wiggling his bunny poof and shaking his ears for the luckiest bonobo apes on this planet. Skip to the 3:40 mark for all the bunny action.
And that one ape has no reason to be embarrassed, my b-hole does that too whenever I see Mah Boo in a bunny suit...which is why I'm typing this while sitting in a bowl of lukewarm salt water.
via Towleroad
Saturday, October 23rd 2010
Seeing pictures of that homewrecking skank Andy Cohen tickling Mah Boo Anderson Cooper's ear with his flirty words made me collapse against the wall and slowly slide to the floor, but this is bringing on a whole new kind of melodramatic fall. Think of Sharon Stone's glassy-eyed final stumble down the dark hallway to the depths of HELL in Casino (sans the whole "dying of an overdose" thing):

Yeah, Mah Boo is simply doing his paid job by interviewing Lady CaCa for 60 Minutes in London, but was the hug necessary? (OBVIOUS ANSWER: NO!!!). CaCa knew what she was doing. She made sure Mah Boo got a good look at her bunny teefs, because she knows how much he loves creatures of the hopping kind. And Mah Boo is wrong for falling for it.
I swear, there must be some kind of support group for delusional bitches whose fantasy boyfriend keeps betraying them through pictures. There must be! Can somebody please ask Jennifer Aniston and get back to me.
Thursday, October 14th 2010
You know that old timey fable about the woof (it's so much better without the "l") who viciously murders a sheep and then pulls a Buffalo Bill by making a body suit out of the sheep's dead body so that he can easily slip into the "sheep world" to feast on all of their organs? This picture of Mah Boo Anderson Cooper in a bunny suit is totally like that story.
I mean, a silver fox putting on a bunny suit? I see you, Mah Boo. You're just trying to eat some bunny ass. I'll play along. As soon as I hit publish on this mess, I'm going to hot glue a bunny ear to each of my ass cheeks (I have no sensation down there anymore, so it won't hurt), and stand in front of the CNN studios with my ass sticking out.
If one of you bitches sticks a baby carrot between my bunny ears, I'll never talk to you again! Use a regular-sized carrot instead!
Anyways, Little Bunny Coop Coop posted this picture on his Twitter with the little note:

From ac: in IA for story on ape communication. The apes asked me to dress as a rabbit. Weird, huh?
Wait, the apes asked him to do this?! THIS CHANGES EVERYTHING! Get me a Teresa Giudice mask, find out how to say "Take off your clothes and wiggle" in Kokonese and then launch me into the ape den NOW!
(Thanks to everyone who sent this to me a million times!!!! Easter has come early and so has.......I'll stop. )
Thursday, September 30th 2010
Ever since Phil Donahue went off the air, daytime television has been aching for a sexy something with hair made out of the rainbow blessed tears of a unicorn virgin princess. And Anderson Cooper is going to fill that void. Not-so-fun-fact: "Anderson Cooper is going to fill that void" is embroidered into the ass of all my chonies. We're all friends here whether you like it or not. You had to know.
The Livefeed reports that Mah Boo is in serious serious SERIOUS serious talks with Warner Bros. about bringing his signature giggle to daytime television five days a week. That means we (and by "we" I mean mean me) will get it good from Mah Boo during the day and at night. Because apparently, Mah Boo will stay on CNN where he has an exclusive contract. Warner Bros. and CNN are trying to work that minuscule detail out. If everything goes according to plan, Mah Boo's show will debut on a major network next fall.
The show will be a mix of serious news stories and pop culture shit. It will also feature a daily cameo by a crazed and foaming at the mouth gay who will storm the set in a bridal tuxedo
I first knew Mah Boo when he hosted a low-budget news show that played during junior high school home room and here he is becoming the new Oprah. Let's all toast to Mah Boo's new show, which I hope will be called AfterCOOP Delight. Or Give It To Me In The Cooper. Yeah, let's go with the latter.
UPDATE: It's happening!
Monday, September 13th 2010
When I first clicked on this picture, I felt like I was coming home with my arms filled with groceries to find my piece giggling on the sofa with the shifty skank slut whore tramp from next door. Bags dropped, naranjas rolled across the floor and the tea kettle screamed!
I should've seen this coming, because Andy Cohen always has one eye on the camera and the other eye on your man's dick! That lazy eye wants to lay right next to the silver field of dreams on Mah Boo Anderson Cooper's crotch. This is so. That woman behind Andy is probably texting some shit like: "Witnessing an evil act of homowreckery right here!"
Oh, how I just want to mount SJP, signal her to kick Andy out of the way and then throw Mah Boo on back so that the three of us can gallop far far far away!
While I go and sharpen my shank and practice my dance-off moves, look at these pictures of three gays and a little filly at the Diane Von Furstenberg show in NYC last night.
Wednesday, September 8th 2010
Here's a sugary drop of Mah Boo Anderson Cooper to make your bowl of cereal marshmallows extra sweet this morning (that sentence was an internal monologue). Mah Boo proved that he's an expert multitasker by trying to woo a cab with his biceps and stone fox glare while hitting the pre-programmed "forward to the authorities" button on his phone when my number popped up. Mah Boo held on tight to the extra shirt he always carries around in case he needs to swat a certain gay gnat who comes fluttering around him. Swat me! Swat me!
And even though Mah Boo tried to mute his sexiness yesterday, he still made people "oooooh" from every open orifice (see thumbnail #3).
Thursday, August 12th 2010
After hearing the news that gays can marry again in California starting next week, Mah Boo Anderson Cooper hopped on his bike and headed to Brooklyn to pick me up so can we ride the rainbow trail of love all the way to wedded bliss. There's just one problem, though. Dumb dumb Mah Boo forgot to bring a handlebar basket! Where in the hell am I supposed to sit?!
It's okay, I'll just ride barefront.