Lady GaGa
Monday, March 12th 2012
Former Hot Sluts of the Day and my favorite cat food-eating aliens from District 9 have a special place in my heart, because I have a strange kind of love for shit that scares me. (That's going to be my excuse if you ever catch me fucking an UGG.) The special in my heart for Die Antwoord has expanded, because they told MTV News Canada that they turned down Lady CaCa and refused to open for her (Side note: Does it make you a pee stream if you open for CaCa? Don't answer that question if you're one of those weirdos who poo before you pee.):

"Weird shit's been happening, like fucking Lady Gaga asked us to tour with her and we're like, 'No, don't worry about it.'

Our stuff is like fucking hardcore like solid heavyweight! We want it to be like a secret mind-fuck! People are like what the fuck is this the first time they hear it. We like making pop music, but we like making hardcore music at the same time, mixing them, but they've got, like, soul. It's not like weak, superficial shit. You know?"
I think what he's trying to say is that they're naturally fucking weird while Lady GaGa bought her "fucking weird" starter kit at Ricky's. Never change, Die Antwoord, never change. Specifically, never change the hair on the pixie Gollum girl, because the "toddler got into a fight with a Flowbee and lost" look suits her perfectly.
And this Die Antwoord video is a few months old, but I never posted it, so here you go. This is what it looks like when my nightmares cry.
Wednesday, February 8th 2012
If a color blind 11-year-old Little Monster used Photoshop 1 on the half broken first generation Mac in his parent's garage to make a fan made poster for Lady CaCa's "Born This Way Ball" Tour, it would look a lot hotter than the "side of a van" shit THIS BITCH came up with. This is like something out of Lisa Frank's New Wave period and I do not appreciate.
There's really no safe place but the pink triangle for my eyeballs to land. That floating alien CaCa head is making the Three Wolf Moon wish they were mute and that castle is a direct threat to my childhood since it's reminding me of Castle Grayskull. If CaCa wanted to out-fug her "Born This Way" album cover, she didn't need to bring He-Man or the Three Wolf Moon into it.
via Twitter (Thanks to everybody who sent this in)
Thursday, January 12th 2012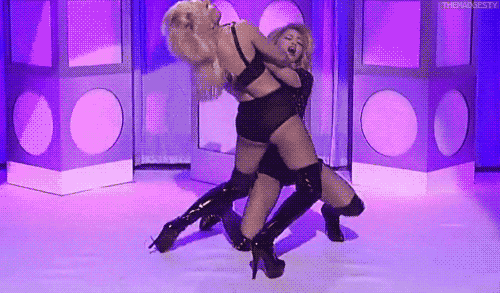 Over a year ago, Lady CaCa snuck into Madge's archives, discovered a deformed twin conjoined to "Express Yourself," gnawed it off with her teeth, dragged it away and then adopted it as her own after naming it "Born This Way." Madge never really commented on it until Newsweek asked her about it during a recent interview. It's best if you imagine Madge saying it in her faux British accent before using her gloved hand to wipe away the cunt venom from the tips of her teeth:

"I thought, this is a wonderful way to redo my song. I mean, I recognized the chord changes. I thought it was…interesting."
YAAAAASSSSS! Like I've said a billion times before, MEMAWS ARE NOT THE ONE! Now if we can only get Madge and CaCa into the same bathroom. Then we can all laugh until our popcorn tubs fly out of our laps from watching one of their wigs go into the shit can:
(GIF via Tumblr)
Monday, January 9th 2012
Lady CaCa is hiding out in a giant empty pickle jar full of Valtrex powder, OxyClean and Debby Downer this morning to keep the terrifying Chilean rape monster that is Snooki from forcibly smooshing pickle sludge into her. That South Park episode wasn't just leaded fuel for your night terrors, it was a piece from the real-life future! The waxed Chilean wombat jumped on her Twatter yesterday and spit this fear-inducing nugget out:
The charred pieces of brain meat in Snooki's head are powered by dirty jacuzzi water, rotten fake tan grease and boiled pickle juice, so of course she's going to say shit like this, but that doesn't mean it was necessary or right. The visuals alone! If the visuals in my head were scratch 'n sniff, they would smell like a whole lot of NO (which strangely enough, smells like her own brand of skank water).
On a positive note, it still amazes me to see how far science has come. I mean, scientists actually taught a brain-deficient chimp to Tweet on its own. Don't let anybody tell you that pickles don't work as positive reinforcements.
And here's one of Lady CaCa's greatest fears getting The Big Doucher constellation tattooed on her shoulder in Hollywood the other night.
Thursday, December 29th 2011
Okay, real or undead, Lady Gaga apparently finally has a man! And might I add he is SEXAI. Thank God she can quit with the possibly bi/possibly try/possibly non/sexual thing and just MOVE THE FUCK ON. Here she is, snapped by TMZ with her boy toy, Vampire Diaries hottie Taylor Kinnie. Come on GaGa, we all need to get a little. Ray Charles saw this coming. TMZ says that they've been dating since he guested with her on the You And I video.
Way to go Gaga, and Taylor! I'm just proud that you own a step-stool high enough to get to the top of her platforms! Or is it scaffolding? Whatever, doesn't matter. Congrats to the happy (unconfirmed) couple and I hope you can keep Gaga's no-pants stance to a minumum. Team ERRYBODY NEED TO GET SOME!!
Tuesday, December 27th 2011
Lady Gaga (the "lady" part is up for discussion) was spotted out in Paris shopping sans Underoos once again says Hollywood Rag. Bitch, put some pants on. That being said, I'm glad she's helping the local economy and hopefully buying some stuff to cover that shit up while she's at it. Come to think of it though, maybe she had lots of panties and they all put on their Nikes and drank the Kool-Aid to willingly go to the next level. I can't say I blame them.
You know, I'm not a prude (more of a total ho really) but I have to say I'll be glad when this no pants / leggings count as pants phase of our fashion history is over. My mama was always like "make sure you have clean underwear on!" meaning UNDER my clothes, so I just can't with this trend. Why is it always the people you don't want to see doing that shit that are doing that shit?? Charlize, baby, you are welcome to support the no pants phenomenon at your leisure. I'll wait. People of WalMart, please sit the fuck down.
On another note, MTV.com says she and Justin Beiber are the front-runners for charitable celebs this year. So maybe she just donated all her lingerie to the needy? Gaga is a giver like that. Don't mind that the crotchless panties all started out with crotches. They did not melt away or off themselves, she cut them out. Just believe that and don't think about it too much.
ETA I have no idea how this ended up under Crumbs. I blame Al Gore as the inventor of the internetz. #notmyfault
Monday, December 26th 2011
There are a million things Lady Copy Paste should be sued for including (but not limited to) copyright infringement, grand theft thievery, illegally cloning Madge's career, creating a hybrid strain of yeast infection and salmonella (yeastonella?) and viciously decapitating an entire tribe of Kermits, but one of her former assistants has chosen to sue her Mermaid Touring Company for being forced to do the job she was hired to do without getting paid overtime.
The Hollywood Reporter says that Jennifer O'Neill was overworked by CaCa and slaved away doing all sorts of fucked up shit during 13 months of the Monster Ball World Tour. The fucked up shit Jennifer was forced to do did not including breaking into Grace Jones' house to Xerox copy her entire wardrobe. Jennifer wasn't even asked to ice CaCa's tuck or steal an outfit for her off of a sailor nun's back (see pics of CaCa at JFK below). Jennifer claims in her lawsuit that she had to act as CaCa's personal alarm clock to keep her on schedule and once had to hand her naked ass a towel when she came out of the shower. Yes, Slave Master CaCa forced Jennifer to do regular personal assistant shit. CaCa is a regular old Mister. Although, if I had to hand CaCa's naked carcass a towel, I'd probably slip face first and fall on my tortured eyeballs to stop them from burning.
But the biggest complaint in Jennifer's lawsuit is that she was never paid overtime. Jennifer was paid $75,000 for the tour, but she says she's owed more than $380,000 for 7,168 hours of unpaid overtime. When I try to do the math in my head, my brain curls into a fetal position and I automatically want to doodle pictures of peens on a Pee Chee folder just like I did in junior high math class. So I had to do the math on a calculator and if Jennifer is telling the truth, then she worked around 138 hours of overtime in one week. That means the bitch barely closed her eyes to slip into a sleep and her veins must naturally pump out meth if she was able to go on that long without sleeping. It does make sense, though. You try sleeping while CaCa's loudly chanting to the Illuminati demon lords in the next room.
The court has heard all the facts and we hereby declare that CaCa is GUILTY! Take away her copy paste function and string the bitch up!
Thursday, December 1st 2011
And here's Lady CaCa's latest first year art school video project which will suck up fourteen minutes of your life. Yes, it's 13:47 minutes long. Bitch, you're not Michael Jackson! If you have more important things to do with your 14 minutes, like wash your ass hairs one strand at a time, then let me break it down for you.
It opens with a scene straight out of CaCa, Interrupted where she's pushed on a gurney into some hospital room/train station lounge/vacuum of pretension after just having an abortion (or gender reassignment surgery, I'm not sure....). CaCa acts for a bit but all I can focus on is how her eyebrows look like albino pubes. Then suddenly we're in an apartment where CaCa speaks Google French, has an orgy with Cheerios, fucks her ego raw in the bathtub and twirls around in a maxi-pad bra. (I think that part symbolizes her gestating in a cocoon before emerging into the world as a Madonna clone.)
The next part was all a blur. I was slapped with Black Swan, punched in the eyes by Flashdance, kneed in the nose by All That Jazz and violently fucked in the ear by Step It Up before I completely overdosed on pretension and shut down. I'm not sure, but I think it ended with CaCa selling her soul to the dark side to become the devil empress of pop she is today. Thank you for letting us know you're a slave to the Illuminati, CaCa. But you didn't have to take up 14 minutes of our time to tell us that. I mean, Nina Hagen already told us and it only took her 5 seconds to do it!
Click here if you can't see that shit above
Wednesday, November 16th 2011
For the first time in my life, I have zero amounts of shade to throw at Lady CaCa. That giant pink jizz fish on her head has temporarily paralyzed all my bitchy thoughts. Yes, pink sperm ejaculated from a horny Pepto-Bismal bottle makes me go soft. But I'm sure I'll go back to holding an umbrella of cuntiness over CaCa's head as soon as somebody pulls out a picture from 30 years ago of Grace Jones with an authentic pink spooge load (from a genuine pink dolphin) on her forehead.
Tuesday, September 13th 2011
Lady Caca delivered a "Dr. Who villain meets The Who's Tommy meets Blair Witch" fuckery fashion parade during a Vanity Fair photo shoot on the streets of NYC yesterday and she accidentally slipped a slit like she didn't practice that shit in front of her trailer mirror for 2 hours. If you put your ear up to her little poonster, you will definitely hear it saying, "One...two...thwee (it has a lisp)...LOOKSHOCKED! One...two...thwee...SMILE!"
To once again quote Julie from Showgirls: "She wants to smile her snatch, she probably cut that string herself."
You might say that this is Caca's way of officially shutting down those gold-winning tuck game rumors with a pierced puss, but I'm still not convinced. When I (NSFW) zoom up really close, I see an extra-long and extra-skinny bi-colored peen head wearing a metal choker. I know, here I go again....