Real Housewives Shit
Tuesday, August 28th 2012
On last night's episode of The Real Housewives of NYC, all of those crazed horny bitches went to St. Barts to be crazy and horny on a different kind of island. During their trip, they all went to a restaurant owned by Sonja Morgan's friend and met the owner's piece, a French dude named Tomas (the piece next to LuMann). Cuntress LuMann is supposedly all in love with her French boyfriend Davide Schwimmaire, but on last night's episode she was all over Tomas and you could barely hear what she cooed into his ear, because the sound of her tingling labia clapping in excitement was so loud.
Sometime during the night, LuMann split up with the other ladies and they all went their separate ways. Sonja and the other crazies went back to the house where they were all staying at and LuMann stayed out with Tomas. The next morning, the crazies started talking about how they were woken up in the middle of the night by the sound of LuMann and another dude laughing. LuMann made up some story about how she met up with her Italian friends and brought them back to the house. But during a conversation on the phone with one of her French friends, bitch admitted that she brought back the dude who looked like Johnny Depp (aka Tomas) and lied to the other crazies about it. It pretty much looked like LuMann squirted Zestra on her parts on got her some ass. But LuMann said on Twitter last night that she's a liar, but she's not a cheater:
I may have lied. Owning that. But I am not a cheater. And they all know it. But wait til you see who really gets Tomas? Tune in next week

I lied about who brought me home. That's all. Nothing happened. Great TV tho! And Jacques and still very happy and together. Night all. xo
Ho, please. Yes, it would be dumb of LuMann to pass the poon to another right in front of the cameras, but you do desperate things when you're in heat and have a hot piece in front of you. You know she humped on that and you know she gave him a stack of hundreds as a thank you. Money can't buy you class, but money can buy you ass. Get it while you're checking account is still in the black, LuMann!
via People
Wednesday, August 22nd 2012
The Real Housewives of Atlanta's NeNe Leakes was just strolling along through the life one day when she ran into her son Bryson's girlfriend, Ashley Hill, who looked like she either had a case of the BABIES!!! or a case of the fats. The two shared a touching moment together and NeNe then heard the words that every mother longs to hear from someone other than their own kid: "You're going to be a grandma, bitch."
When 44-year-old NeNe told Ashley that it looked someone was living up in there, Ashley admitted to being over 6 months knocked up and asked her if Bryson told her. NeNe was farting up shit bombs of anger at first, because she didn't think her practically unemployed 22-year-old son was ready to be a father. But she changed her mind as soon as she realized all the extra money she came make from whoring out her granddaughter in tabloids her granddaughter Bri'asia (no comment on that name) was born. NeNe said this to InTouch:
"I always wanted to have a girl and now I have one! She's just adorable.

I paid for everything in the nursery: the clothing, the diapers. I don't want her to feel strapped. [I've gone] crazy buying gifts for the baby, including little dresses, sparkly headbands, and Gucci shoes … We just love her,"
We get it, NaNa Nene, you have that TRUMP check, you're rich, bitch, etc... I guess NeNe really is proud of throwing all that money at her granddaughter, because she's holding Bri'asia like that baby is a trophy, a bag of money or a limited-edition Marie Osmond doll. That is the "Behold, My Adorable Little ATM Machine" pose from the Kardashian pose book.
And here's some pictures of Elisabeth Moss at the NYC premiere of "For A Good Time, Call..." last night. I know Elisabeth Moss has nothing to do with this story, but she and NeNe both have Draco Malfoy hair, so I thought it was fitting.
Friday, June 1st 2012
It seems like the weeks leading up to last night's episode of Don't Be Turdy For The Wedding, Bravo promoted that mess like it was its Who Shot JR Moment? or like they were going to tell us if Michael T. Weiss ever got caught for beating Jennifer Beals' character in that stairwell (Never 4get 2000 Malibu Road). They made it seem like seeing the top of Kim Zolciak's head in its supposed natural state is an important moment in basic cable history. I don't know why. We've seen that bitch wig-less during lesbian days. It's not anything new.
I doubt you care about the details of last night's episode, but I'm going to tell you anyway since I feel like typing and I just want to type to type. (Story of my blog.) Kim's wig tamer Derek J came over the day before her wedding to talk about what she wanted him to do to her bridal wig. Kim really wanted to chav it up for her special pre-divorce ceremony day, but Derek J stuck with the script the producers gave him before they shot the scene and told her she should wear her natural hair. That led to Kim taking her wig off in the other room before coming out without Benji's carcass on her head.
Bitch looked like a 45-year-old assistant manager at a hair salon that specializes in styles from the 90s, but that's besides the point. If that's Kim's real hair, then I have two dicks for nipples. That has to be a wig or at least a nest of weave pieces. I bet Kim wears a wig under her wig just in case somebody snatches the top one off. If you pulled all the layers of wigs off of Kim's head, you'd find a plastic dome with the words "Mattel Inc/1967/Korea" branded into it. And you can't try to convince me otherwise. Clip of that mess below:
Thursday, May 10th 2012
Those of you who watch The Real Plasticwives of Orange County know that Droopy Dog Vicki's world crashed down to the same level as Alexis Bellino's IQ when she found out her daughter Briana eloped with her boyfriend at a drive-thru wedding chapel in Las Vegas. I was shocked too, because I kept waiting and waiting and waiting and waiting and waiting for the episode where Briana comes out as a proud labia-licking lesbian. It didn't happen and instead Briana married a dude. Vicki freaked out, because Vicki is Vicki and if it's not about Vicki Vicki doesn't like it. Vicki felt like Vicki's daughter robbed Vicki of the experience of being the mother of the bride at a wedding Vicki would've made all about Vicki. I'm typing Vicki's name so much, because blogging legend has it that if you don't type Vicki's name at least 25 times in a post about Vicki, you will awaken the Vicki monster and Vicki will crawl out of the closet to scream at you for not making this post all about Vicki!
During the past episode, Droopy Dog threw a marriage announcement/wine club (???) party for her daughter and Tamra asked Briana if there was a baby with a shot gun in there. Vicki's head nearly popped off and she said she wouldn't be able to take another bomb drop. Well, pull out your telescopes and search the sky for a soaring Vicki head, because Radar says that Briana's love tank is full of amniotic fluid:
The reality TV star is already four months pregnant and can't wait to be a mother, a well-placed source tells us.

The news likely came as another shock for Vicki who, as RadarOnline.com reported felt "confused and sad" when she recently learned about Briana's secret elopement.
Vicki hasn't yet given a statement about this, but we all know what her official response is. Yes, I'm using this GIF again: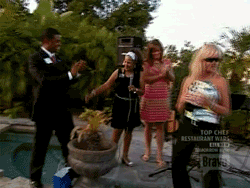 Honestly, Vicki loves all of this. Ho loves the drama. If it allows her to be the neurotic, unreasonable, lunatic monster that she is, Vicki is all about it. Some people just love being crazy. Besides, Vicki will love her grandchild as long as Briana names it....wait for it...Vicki Jr.
In other OC Housewives, Lynne Curtin, the Steven Tyler-ish beauty who makes Alexis Bellino look like the founder of Mensa, is getting a divorce! Who will get control of her Cuffs of Love empire?!!!!
Monday, April 23rd 2012
I was at Jezebel a little while ago and the headline "Real Housewives' Simon van Kempen Ejaculated on His Wife While She Gave Birth to Their Son" unlocked the picture-making part of my brain that shat out the sucio image of Simon jacking it over Alex's half-naked body as their son Francois slid out of her coochie, took one look at Simon squeezing his peen, learned real quick how to say "fuckthis" and crawled back up into his mother's body where it's safe. That image will stay with me forever and I'll bring it out every time I need to scare my nightmares away. But that's not exactly how it went.
In their two year-old book Little Kids, Big City (aka The OverFuckingSharing Diaries), Alex McCord, formerly of The Real Housewives of NYC, writes about how her creepy husband pushed out a load of baby batter in his panties as she pushed out the finish product. It's kind of like how on cooking shows when the chef shows the batter and then brings out a plate of the finished cake! Okay, I just made it grosser, so I'll let Alex take it from here:

Once he was finally out of my body, I experienced a tsunami of endorphins that was almost orgasmic, and I understand completely the stories other women have written about ecstatic birth. Simon was sitting behind me at the point of birth, and later when we untangled ourselves he discovered he'd actually ejaculated though hadn't felt any of the normal lead-up to that. It may seem distasteful to some, and definitely neither of us was thinking of sex at the time, but with the rush of emotion and my lower nerve endings going crazy, it's not too far a stretch to say that it's a profound experience.
Kinky fucks! Even Alicia Silverstone is like, "jaldkfjaoubiuoubiuoaudfkl." Alicia's son was eating chewed tofu from her mouth while she said it so that's why you can't really understand her, but what she said was, "Too far.... TOO FAR!"
You know, Simon and Alex bring new meaning to the word "creepy" but shit (on the labor table) and jizz (in the pants while your wife is birthing out your baby) happens! This is still not something I needed to know today or any other today.
Wednesday, April 18th 2012
Personally, I think Sheree throwing the lines "Fix that face" and "Trim down those doggy teeth" at NeNe during the reunion earned her a ticket for season 5 of The Real Housewives of Atlanta, but Bravo isn't trying to agree with me. However, Marmaduke's cousin twice removed at the water dish is out there trying to spin it like she's the one who opened the exit door instead of getting evicted from the cast. Sheree told Wet Paint that the rumor that she was fired from the cast is false and she's leaving on her own free will. CAUTION: Delusion ahead.

"After four solid seasons of helping Bravo build the show into its most successful Housewives franchise, I have decided to leave. The direction the show is going in is no longer a fit for my lifestyle. I'm tired of the fighting and the cattiness."

I want to be part of something that empowers and inspires women to not only be healthy, but to treat themselves with respect. I wish the rest of the women the best of luck. I'm thrilled to say I'm now a free agent and am already fielding offers."
Translation: "After four solid seasons of making myself look like a delusional ass, I have decided to calmly leave before Bravo gets their security to drag me out. The direction the show is going in is no longer a fit for my lifestyle since the producers expect us to have money and I've only got a pile of dirt, a patch of grass and a few logs of squirrel shit to my name. I'm not joking. Have you seen Chateau Sheree lately? I'm tired of buying $1200 dresses to wear on camera and I'm really tired of those salespeople at Neiman's rolling their eyes at me when I go to return that shit. I was about to say that I'm tired of the cattiness, but then I realized that I'm usually the bitch who starts it all!
I want to be a part of something that pays in cash and requires me to do as little as possible. I wish the rest of the women will go to hell. I'm thrilled to say I need a damn job and am already fielding offers. And by that I mean two bill collectors are trying to crawl through my A/C vent. Who gon check me boo? Oh, Bravo just did."
But seriously, I, for one, will miss Sheree's beautiful delusions of grandeur. It takes a special someone to drive around in a leased $120,000 Porsche with confidence while tumbleweeds blow through her checking account.
Tuesday, March 20th 2012
The rent is due on Kim Zolciak's new multi-million dollar mansion and so here she is proudly showing off her dollar sign fetus in this week's Life & Style. The wig-wearing Silicone whore walrus of The Real Trashwives of Atlanta birthed out her son Kroy Jagger ten months ago, but the AA batteries on her relevancy clock are almost drained, so she's pushing out another one while she can still collect a check from L&S. 33-year-old (HA!) Kim is four months pregnant and says that she and her husband Kroy Biermann completely planned this:

"Kroy and I are so excited. To decide we wanted to get pregnant again and have it happen so quickly was such a blessing.

People are going to be shocked, because nobody knows. I'm so excited that KJ will have a little buddy."
That means we're living in a world where a Kuntrashian, Snooki and Kim Zolciak are all carrying spawns at the same time. The celebrity money baby trifecta is complete and the world's power has shifted to the Illuminati. We're now asshole deep in the Fame Whore Age and it's only going to get darker. Don't believe me? Let me remind you of what happened the last time Kim was knocked up with a baby who is now being raised by nannies and reality show producers:
Not today. Not ever.
Wednesday, February 1st 2012
On Sunday night's The Real Howives of Atlanta, common felon turned kept bitch Marlo Hampton got into a butch bitch battle royale with resident doberman Sheree Whitfield and it quickly turned into Marlo bragging about how her townhouse is paid for, her Aston Martin is in her name and she didn't have to spend a cent of her own money on her adam's apple removal surgery. (I made that one up, but pass me Marlo's medical file and I'm sure I'll be able to point to it.) Sheree then let it be known that Marlo got all of the fancy shit she owns by opening her legs to an 80-year-old white sugar daddy. I know, Sheree said it like it's a bad thing. Marlo is just using what a good surgeon gave her to make it rain hundred dollar bills without getting out of bed. My dream job.
Part of me thinks that Marlo was one of those frontin' hos who drives a 1988 Toyota Tercel with an Aston Martin shell over it, lives in the detached garbage behind the townhouse she says she owns and buys all of her luxury "designer" bags from an exclusive boutique housed in the back of a truck. But if Hello Beautiful (via C+D) is right, then I'm very wrong. Because they're hearing from a source that Marlo hit the sugar daddy jackpot yeeeeaaaars ago when billionaire Ted Turner put her on his payroll:

"Ted Turner was Marlo's sugar daddy. My understanding is that Marlo is one of the reasons why Jane Fonda divorced Ted Turner.

Ted Turner is the 'sponsor' who financed the The Red Carpet Boutique Marlo had at the Perimeter mall in ATL. Marlo knows how to get money, she's a true hustler."
Well, color me impressed and punch me in the face with a Hanoi Jane fist. Marlo is not only a spot-on Chilli from TLC female impersonator, but she's also a successful gold digger. Marlo's talents know no bounds and here she is showing off one of the talents she shares with her arch rival Sheree:
Say what you want about Marlo, but you can't deny that she has the fighting skills of one of those sound-activated goblin Halloween props you buy at Walgreens. Now that is a true talent.
Tuesday, December 20th 2011
No mug shot camera has ever frosted up the way one did when the belle of The Real Housewives of Atlanta, Dwight Eubanks, posed in front of it after getting arrested in Atlanta last Wednesday. Believe it or not, Dwight wasn't arrested for assault with a deadly pucker. Mr. Peanut's charm school coach and long-lost twin was put into handcuffs for driving with a suspended license. The most embarrassing part is that Dwight was pulled over in a Chevy Tahoe. A delicate dandy like Dwight should be chauffeured around in a gold carriage pulled by white stallions wearing gingham print capes. Not a Chevy Tahoe! My body just went as limp as Sheree's dick after Bob served her.
The Atlanta Journal-Constitution says that Dwight was pulled over for a burnt out headlight and when they asked for his identification, he showed them the label on a jar of Planters Peanuts. That wasn't good enough for the police and when they did a quick search on Dwight, they found that his license was suspended. Dwight was arrested, charged and later released.
Dwight is the sweet treat you find in the middle of a Tootsie Pop and his queefs are the secret ingredient in smelling salts, so how dare he be treated like this. Dwight gets arrested for driving with a bunk license, yet Sheree struts free even after she murdered dozens of ear drums with this:
At least I think that's Sheree "singing".... But if you told me it was Scrappy-Doo, I wouldn't call you a liar.
(Mugshot of Beautee via MyFoxPhoenix)
Saturday, November 12th 2011
But in a shocking turn of events, this time she's actually the one married to the married man!
A flock of white doves wearing tiny blond wiglets flew over Atlanta yesterday after 33-year-old (in Courtney Stodden years) Kim Zolciak of The Real Messes of Atlanta married the man who owns the ass that she was creaming at the mouth over all last season. Kim and Atlanta Falcons player Kroy Biermann married on 11/11/11, because her lacefront squeezed her last memory chip out of her brain and those numbers added together make up his IQ, so it's an easy date to remember (but you know those dumb bitches will still forget it).
Life & Style, who paid for the EXCLUSIVO rights for the wedding pictures with a half-full jar of wig glue and an at-home collagen kit, has all the details that I know you give a thousand fucks about:
"This has been the happiest day of my life," Kim exclusively tells Life & Style. "It's been perfect. It's been a dream come true."

As Life & Style previously reported, Kim, 34, and Kroy, 26, got engaged in October after welcoming their first son, Kroy Jagger, together in May.

"He makes me a better person," says Kim. "I love everything about him."

The couple met at a charity function in 2010, during the filming of the third season of the hit Bravo reality series. Kim has two daughters, Brielle and Ariana, from a previous marriage. This is the first marriage for Kroy.
If NeNe, Phaedra, Cynthia and HeRee were there, they probably synchronized their divorce clock watches and made bets on if Kim is going to beat Kim Kardashian's 72 second-long queef of a marriage record. I'll bet that she will. This marriage is going to last about as long as the time she was a lesbian.
Kim will probably have to slap on a divorcin' wig in a few months, but at least 11/11/11 will always be the day that she wore a dress that made her look like her belly button heaved out intestines made of satin. This is the hideous barf spray of a wedding gown that Kim wore and ONTD says that the pre-owned dress cost Kim $58,000.
Yes, 58 fucking thousand dollars for a dress that looks like Liberace shat crystals on a Ballard Designs comforter and then slit its stomach and pulled out all of its satin internal organs. It's like the tackiest satin blood clot you've ever seen. To think, Kim could've had a She by Sheree ORIGINAL and she went with this shit instead? I bet Sheree shook her head at that thought as she collected the centerpieces from each table so she can sell them on eBay and pay her rent next month.