Real Housewives Shit
Monday, October 24th 2011
Aaaaaand add this to the long list of shit we can blame Tyra for.
On the left is Melissa Gorga, the tone-deaf trophy wife of Teresa Giudice's (aka Gorilla Head) brother on The Real Housewives on New Jersey. On the right is Melissa Gorga wearing a recycled low-budget fat suit and a droopy prosthetic chin for one of those useless social experiment episodes of Entertainment Tonight. We know how this is going to go. Melissa is going to cry about how everyone stared at her and treated her differently when she had on the fat suit, and once she transforms back into a vapid skinny bitch she'll treat fat people with kindness. Or some other jack off hand motion like that.
Bitch, people aren't staring at you, because you're fat and have a camera crew following you. They're throwing you scared looks, because you don't even have a human body. People don't look like that. You look like a bag of melted caramel marshmallows after a Pepto-Bismol bottle shat all over it. Not to mention that your chin is about to unlock from your head and fall to the sidewalk to be devoured by pigeons. Eric Stoltz in Mask, you are not!
I'm all for ET conducting one of these social experiments even though they have been done a thousand times before and are so played out that even Fishsticks Paltrow's stupid ass did it in a movie, but couldn't they have spent more money on a better fat suit? The Bed, Bath and Beyond plastic bags full of 4 pillows that I carried on the subway this past weekend would've made a better fat suit than that piece of shit crap on her body. A STUNT QUEEN with a pauper budget is the worst.
Massive Mocha, please squash this dumb bitch.
Wednesday, September 14th 2011
The Seal Team 6, The National Guard, Sylvia Browne, peroxide-sniffing dogs and a group of concerned citizens (body count: 0) all gathered in Virginia this morning after noted STUNT QUEEN, White House Crasher and asshole of The Real Housewives of DC, Tareq Salahi, told TMZ that he believes his wife and partner in fakery Michaele Salahi was kidnapped since she hasn't been home for a full day. The good (?) news is that Michaele wasn't snatched, is still alive and simply took a midnight train. The bad news is that the midnight train wasn't headed for the edge of a cliff. The midnight train was headed for Nashville where Michaele met up with her side-piece Neal Schon from Journey. HAMber alert!
This pr stunt mess all started when Michaele called Tareq last night from a strange phone number and said she was going to her mom's. Michaele's mom told Tareq that she never spoke to her daughter and she wasn't at her house. So naturally, Tareq figured that Michaele was kidnapped and her abductors were making her say she's okay. When Michaele didn't come home this morning, Tareq begged the FBI to help him find his wife. The FBI rolled their eyes and wouldn't waste tax dollars on that mess since they know how the Salahis do it. Tareq later held a press conference where he said that he's being serious and asked the public to help him find his wife ("OKAY!" - nobody from the public).
Tareq might need the public to help him find a divorce attorney that works for free, because a rep for Journey confirms to TMZ that Michaele is traveling around Tennessee with her piece Neal Schon. A source claims that Michaele and Neal have known each for a while and used to crash each other's genitals.
Is TMZ sure they got a statement from the real rep from the real Journey? Knowing Michaele's lying ass, she's probably really dating a guy who once sold a guitar to Neal Schon on Craigslist and gets his biggest score on Guitar Hero when he plays "Any Way You Want It." I hope I'm right for Neal's sake. It's one thing to always get mistaken for a Claymation Bruce Springsteen, it's another for people to think that you're doing one of the White House Crashers.
Friday, August 19th 2011
If the Mayans are right and 2012 is the year of We're Fucked, then that means 2011 is the year of Fuck It which makes sense when you look at this cover of The Real Housewives of NYC's Kelly Benismon on September's Shape Magazine. Yes, THAT Kelly Bensimon. The Kelly Bensimon who really looks like a water-damaged leather duffel bag handle with tits that are slowly starting to migrate to her back so that they can slide down and escape out of her asshole. Shape Magazine didn't even try to make that ho on the cover look like Kelly Bensimon. Bitches used the hell out of the Honey Badger tool on Photoshop!
You know, I take it back. This isn't the work of Photoshop. This is the work of copy + Elmer's. The body, the face, the earrings and the hair are all strangers to each other and were forced together in a nightmare land. This is basically the Breakfast Club of magazine covers. I've seen badly cut out paper dolls that look more human than this.
And Kelly told Shape (via Radar) that despite the rumors that the bad shit has eaten the sanity out of her brains, she's completely drug-free:

"My body is like a Ferrari. I know what it needs to run well — and that doesn't include drugs, alcohol, or cigarettes."
A Ferrari? HO STOP. More like the torn out leather seat of a broken Ferrari that has been left out in the middle of a junkyard for the pit bulls to chew at.
Here's Kelly working her real body last March in a photo shoot for Abs of Meth.
Thursday, July 28th 2011
Taylor Armstrong of The Real Horsemouths of Beverly Hills filed papers earlier this month to legally quit her creepy husband of 6 years Russell Armstrong and she's telling People one of the reasons why she chose to do. It wasn't because Russell's checking account is as dead as the feeling in her lips. It also wasn't because the ghost of her creator Wayland Flowers is pulling her strings away from Russell's gross ass. Taylor says it's because their marriage made a sharp turn onto Ike Turner Road.

When I knew the filing had gone through, I just started to cry. We tried hard to fix our marriage, but it wasn't healthy. I hope we can co-parent as healthy as possible," she says, adding she'd like joint custody. He's an amazing dad, and I want her to still think her dad is the greatest guy on the planet.

I think I hurt for my daughter more than I do for myself. It feels like a big loss that she's not going to grow up with both of her parents in the same house."
According to Taylor, Russell cursed her out, shoved her, pushed her and pulled at her hair during fights. Russell admits to pushing Taylor around, but blames it on Bravo.

"Did I push her? Yes, maybe things happened in the heat of the moment, but it was during a time in our lives that was not characteristic of who we were. This show has literally pushed us to the limit."
Literally pushed them? I wish the show would somehow grow silicone arms and push both of their asses off and over the limit.
Taylor always spits out collagen-covered lies, but I still believe her lying ass. Russell is just a bag of gross who probably has chronic coffee breath and doesn't make one sound when he cums (that's the worst). He probably trolls Craigslist looking for phone fucking dates, but when he finally gets one he just breathes really heavy and asks you to talk about what kind of shampoo you use. Yes, I'm speaking from experience.
My favorite part is when Taylor says that she hopes her daughter will forever think that her dad is the greatest living man ever. Yeah, I'm sure that when her daughter gets older and brings up this interview on microfiche (it's going to make a big comeback, okay?) in the school computer lab, she's going to happy sigh in her heart after reading that her dad yanked at her mom's weave. I know I would. And then I'd show my mother the "how to get out of an abusive relationship" instructional video titled Sleeping with the Enemy.
Wednesday, July 27th 2011
Here's the trailer for the second season of The Real Housewives of Beverly Hills and it's sort of like watching a mound of orange Play Doh melt inside of a bedazzled microwave. And I'm mostly talking about Taylor Armstrong's lips that look like they're slowly eating the rest of her face.
Based on this mess of a trailer, it looks like the petals on the crazy flower in Camille Grammer's brain are staying mostly intact this season and most of the insanity comes from Kim Richards and that lunatic bitch who LeAnn Rimes wants to hallow out and crawl into. I'm talking about Eddie Cibrian's ex-wife Brandi Glanville who accuses Kim of doing meth in the bathroom and then threatens to murder ass.
This mess will be a good season as long as Giggy gets more screen time and there's at least one cameo from Kim's STUNNING pearl choker and bracelet.
And here's an exclusive first look at what happens when Brandi and Kim take their bitch fight out to the front steps:
Friday, July 22nd 2011
On last night's season finale of The Real Horseflies of New York City, Cuntess LuMann de Lesseps threw a party on a boat to celebrate the 1 year anniversary of dating her boyfriend Dahveed Schwimmière. LuAnn throwing herself a fancy party for her 1 year dating anniversary is one kind of confusion, but Natalie Cole agreeing to sing at that mess is another. Earlier in the episode, Natalie magically ran into LuAnn at a recording studio and agreed to sing a duet with her at the party. This crap put the du(du) in duet.
If you crawled into Nat King Cole's grave, opened his coffin and gave his skeleton mouth to mouth bones, the sound that comes out of him would sound a million times better than what came out of LuAnn's last night.
I never saw Natalie shake her head and make a "so it's come to this" face, but I did it for her. I'm surprised that Natalie Cole singing a duet with The Cuntness didn't make Hell freeze over and send an icy glacier up through the Hudson to break that boat in two.
L is for the way my ears leak blood....
Saturday, July 16th 2011
In a move that even Alison the Slycic's e-cig could've predicted, The Real Housewives of Beverly Hills' Taylor Armstrong has dropped divorce papers in the lap of her cunt-hearted creeper husband Russell Armstrong after 6 years of marriage. Russell is going broke and it's obvious to everyone that Taylor only married him for his cash, so she's doing what every gold digger should do when her shovel comes up empty: bitch is packing up her pool noodle lips and getting out of there.
Out of fear that the gallons of collagen in her lips will burn off from all the quivering it does while she cries about how empty her husband's checking account is, Taylor Lipstrong tells People that she has decided to leave his ass for good.

"It was a difficult decision but I have decided to file for divorce from Russell. Although we have tried our best to work out our differences, I have come to the conclusion that it is in the best interest of our family that we separate. Together we are the proud parents of a sweet and wonderful little girl and she remains my number one priority. I am sad for my marriage to come to an end, but am confident that this is the right choice for all involved."
Taylor is a superficial, puppy-hating, annoying gnat that looks like she just crawled out of a vat of acid in Gotham City, but Russell is just ugh. I don't know how she boned that shit. Russell probably prints out a really complex Excel spreadsheet, tapes it to the headboard and licks it as he does Taylor missionary style. I just... No. But at least, Taylor will soon be free to marry her real love: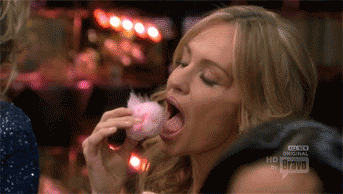 COTTON CANDY!
Wednesday, July 13th 2011
Last season on The Real Housewives of Orange County, Tamra's rape-eyed douchefart of a son Ryan had to get a huge growth in his tit removed because he tapped his ass cheek with the roid needle way too much. When Ryan said that he ejaculated Canseco syrup into his butt veins to get as big as a He-Man doll but ended up with a pair of titties milanese, I wondered if roids also made his peen shrink and shrivel down into the size of Alexis Bellino's brain?
(NSFW) Isayoneup has the answer to that question! Maybe. They posted a picture of someone who is supposedly Ryan doing the dick pic pose equivalent of sucking the gut in. Dude is choking his shit so hard that it's swelling up and the head looks like Lego Lady hair. But it doesn't look like roids ate a chunk out of his dick situation. Or maybe they took the growth that they removed from his tit and shoved it into his dick to meat it up a bit? Possible. Anyway, (NSFW) click here or here to see Ryan asphyxiating his peen.
Tamra could not be reached for comment since she was hiding out in Gretchen's front yard bushes and the service there sucks, so we'll have to settle for the latter's response instead.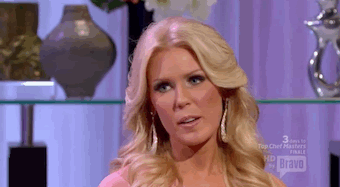 Oh, Gretchen! Don't stress your frozen eyelid from trying to roll your eyes at this. You know Slade Smiley's got an overcooked penne noodle for a peen and has to splint it with a broken off Popsicle stick just to get it in (Copyright: AH).
Wednesday, June 29th 2011
I just got back from spending the evening with my family at the luxurious beachside enclave that is Brighton Beach where we feasted on overcooked old fish and flat soda water at the most prestigious Russian seafood restaurant with a zero point Zagat rating, so this is the perfect video for me to end my day with. This is The Real Housewives of NYC's Countess LuAnn dragging Jill Zarin and a bag of leather beans through the Borgata Hotel in Atlantic City, because when you think of "Chic C'est La Vie," you automatically think of an old Jersey whore giving a $2 hand job on the boardwalk. I know I do.
But real talk, that video is just a ridiculous piece of shit wrapped in old lady tragedy. Jill Zarin belongs in a music video as much as a clit belongs in my asshole. It's not right. It's also not right that Cuntess LuMann sounds like an Eartha Kitt fart and looks like a man alien in Teri Hatcher drag. This is what it looks like when a hot flash and a cold queef collide.
via Popeater
Wednesday, June 29th 2011
The Real Housewives of Atlanta's Kim Zolciak has earned a NOT RIGHT certificate from the Wig and Weave Association of America by displaying her newborn baby in a state she wouldn't be caught dead in: BALD AND WIGLESS.
Kim showers with a waterproof wig on, because if something should happened she would never want the paramedics to catch her with two stray hairs on her head and a whole lot of exposed scalp pores, but yet she pushes York Reggaj (I refuse to call him Kroy Jagger or K.J.) out with a naked head? While I fire off an anonymous tip to Child Protective Services' baby wig snatching division, you can read what Kim told Life & Style about Baby York.

"I'm just so crazy in love with K.J. – I'm always kissing his big old lips.

The actual delivery itself was very private, very personal. To be in such a happy place with Kroy there, it was definitely very emotional. It couldn't have been more perfect. I'm 100,000 percent certain that Kroy is the one for me.

I definitely would like one more child. I would love to have K.J. walking by the wedding. He could be the little ring bearer!"
Open the toilet seat, because this is some real shit right here! "Just so crazy in love with K.J."? How dare this wig boning bitch bring Beyonce, the empress of wigs, into this by quoting one of her songs! Kim quotes Beyonce but then goes against her beliefs by not putting a wig on it. Cruel and unusual punishment! Let me be the mother that Kim ain't by trying to right this wrong:
There! Much better and totally not creepy!