This Belongs In A Museum
Tuesday, August 23rd 2011
That little blank space on Khia's mug shot gallery was making me itch and so the OCDer deep in me thanks her for doing something about it by getting busted in Dekalb County, Georgia over the weekend. My favorite poet and the mug shot supermodel graced the police station camera with her pose skills after she was arrested for "concealing/endangering property-secured interest." Straight from the A translated that into real talk: Bitch hid a car she owed payments on. Sonia from Operacion Repo is coming for you, Khia! Hopefully, Sonia also repossess Khia's gremlin brows while she's at it.
Khia posted $500 bail and was released back into the wild, but not before she gave the world her latest:
You never thought you'd see Elmer Fudd as Annie, did you? Khia is a true chameleon.
Every Glamour Shots should be shut down and replaced with Khia's Academy of Mug Shot Glamour, because there are some sad and dusty mug shot takers out there (Lindsay Lohan) who could use her expertise and learn how to smile like it's first grade picture day or some shit.
Monday, August 22nd 2011
Warning: If you hate Sandrunk Lee as much as Paula Deen hates I Can't Believe It's Not Butter, then this clip of outtakes from her show might make you hate her a little less. Or it might make you hate her more since the Stepford robot shit she pulls on her show is just an act and the real Sandra Lee is a drunk, cursing ho who isn't afraid to double cup her semi-homemade chichis in front of the crew. But sweet mother of Alize and frozen grapes, this shit is gold. This is how I'll take my Sandra Lee from now on, thank you. This Sandra Lee doesn't make tablescapes, she jumps on top of tablescapes to shake her titties for a Jell-O shot.
I love it when cocktail time comes with a titty grope, booby sex with a margarita bottle and a fuck bomb.
Thursday, August 18th 2011
At the end of every day, I throw myself on top of my bed and stare at the water spot on my ceiling while trying to exorcise all the KardashianLohanStoddenFishsticks foolishness from my head so it doesn't follow me from my daymares into my nightmares. While I was in the middle of doing this last night, I felt a tingling on my lobes travel up to my ear holes like a feather fairy wearing glitter skates was doing figure eights across them. I just figured that my neighbor a few doors down was listening to Clay Gayken's first album again, but now I know the real reason why!
During The Silver Fox's Ridiculist segment on Mah Boo 369me, he gave all little girls an inferiority complex when he busted into a giggle tornado while talking about Gérard Depardoodoo's mile high golden showers. War bullets and Pro-Mubarak crazies are no match for Mah Boo Anderson Cooper, but put a bunch of piss puns in his mouth and he melts into a puddle of giggles. A puddle I just want to pour into a silver decanter and charge hos $5 to listen to it. I never thought that I'd want the sound of a baby pink dolphin getting tickled in the blowhole by a pair of rainbow hands as my funeral song.
Sunshine on my shoulders don't do shit for me, but watching a Mah Boo giggle meltdown makes my happy place open franchises all over my body. Kittens in baskets can take the day off, because nothing will top this.
If scientists can come up with a way to hypnotize all tween girls into devoting their lives to Justin Bieber (that definitely is the work of some evil ass scientists), then they can come up with a way to embed this GIF on the inside of my eyelids: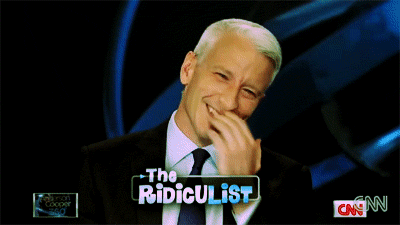 Dear Tyco, all I want for Christmas is a Tickle Mah Boo Doll complete with it saying, "This has never happened to me before...."
Good. Night.
via ONTD (Thanks to everybody who sent this in)
Sunday, July 24th 2011
By the time you read this, Christopher Nolan would have already shut down production on The Dark Knight Rises, pink-slipped every single cast member and locked himself up in his basement office where he's re-writing the whole story to focus on a freckled heroine who's the chicken coop love child of Poison Ivy and The Joker and was raised by Alfred in a half-broken incubator in the corner of the Bat Cave. It's BAT CUTLETS!
When you shine her signal in the night sky, she rushes to the spotlight and strikes poses in front of it for hours until the villains get bored while waiting for her and go and get a Double Double instead. Have you ever posed with the Cutlets in the pap's flash light?
For the second year in a row, Nerdapalooza felt the A-list (A is for "aim a camera at her and she'll pose") powers of Phoebe Price who brought some free range glamour to the streets of San Diego by posing in costumes EXCLUSIVELY picked by PP from KMart discount bins the day after Halloween.
The major Comic-Con events might've been inside, but the real show was outside. Yes PP can pose with SD's finest who almost put her in handcuffs for flashing farm raised labia. Yes PP's mother can wear a Kinko's original t-shirt that I want to be buried in. And yes Lynda Carter will bawl on all 60 of her birthday candles tonight and wish the same thing she wished last year: THAT PP WILL STOP SHOWIN' HER UP LIKE THIS!
Tuesday, July 19th 2011
During a hearing for the News of the World phone hacking scandal, billionaire media mogul Rupert Murdoch must've wished he had his Sith Lord hood on when comedian Jonnie Marbles busted a shaving cream pie right into his face. Rupert's wife Wendi Deng (or Wendi Daaaang as her homegirls will now call her) is definitely gangsta, because she defended her sugar vato by throwing punches at the cream pie tosser. That's gold digger love right there. Rupert will later thank Wendi the only way a vato knows how: by giving her a cheek hickey that'll match one of the liver spots on his face. Ride or die, bitch!
Friday, July 15th 2011
If the sparkles from a crazy diamond could speak words, they'd say every single thing Paz de la Huerta said in her interview with The New York Times. The glorious goddess of grease who always looks like she's got the whiskey wakes had a few words for her haters (including her own sister) and talked about the time that the spirit of Elvis' finger banged her at Graceland. Spaz has got the crazy of Courtney Love and the ice cold conceitedness of January Jones. Everything that comes out of her insane mouth hole just makes me scream YES!
On the second season of Boardwalk Empire and how chicks throw daggers at her bare nipples with their tongues: "I can't share much about the show, but hopefully some of these women who resent me for being naked or in little to nothing will be pleased that I'm knocked up, and they'll pay attention to the performance. Women have said the most malicious, disgusting things about me. But I know that when somebody comments about you, good or bad, it is 99 percent of the time their projection of how they feel about themselves. Even my own sister treats me worse than somebody would treat a rat. She actually likes rats, so worse than that."

On how her older sister tried to murder her when she was a fetus: "Even when I was in my womb she used to punch my mother's stomach. She did not want me born. I'm working on my relationship with my mother and father, but my upbringing has been very destructive. They're all Scorpios — my mother, my father and my sister."

On how she got ghost fucked by Elvis: "I was with my ex-boyfriend [Scott Weiland] and had to beg him to go to Graceland. I felt like he was jealous of Elvis because I've always been infatuated by him, which is hysterical because he's passed away. So I went to his recording studio because sometimes the sensitive people feel him in this room, and I stood in this corner and I felt him. What can I say? I felt him touch me. I mean, come on, he's a ghost. I felt his spirit go through me and give me pleasure. I experienced that when my cat died. She waited until I got home from Sundance, and she passed away the second she was in my arms, and I felt her spirit go through my body. But this was different. It was like Elvis was tickling me with a feather."
See what I mean? Accusing her sister of trying to commit abortion via bump punching? Making us imagine the spirit of Elvis in the body of Whoop Goldberg, tickling at her coochie while Scott Weiland slurs out "Unchained Melody." Crazy ass Spaz is always talking like she's a hungover shithouse rat (the one rat her sister hates) who really needs a fucking cigarette. I hope Spaz's vocal cords work forever so she can keep spitting out magical crap like this.
To quote my abuelita while watching one of her novellas: PERRA LOCA!
Tuesday, July 12th 2011
Posing on the border where my nightmares meet my wet dreams, Tilda Swinton wipes the skid mark left by Kim Kardashian's skank shit off of W Magazine in a series of gorgeous pictures that make me want to tap my b-hole with a Lego Man wrapped in a Tyvek condom.
If Powder joined a Culture Club tribute band in Oz, that cover is what it would look like. The rest of the pictures give me "albino lab rat meets Botoxed Gollum meets a monk from the Temple of Bowie" vibes. There's really nothing else more to say. The Foursquare Mayoress of Saturn strikes again! Now if you'll excuse me, I have to go hide in a closet with my Lego Man.
Monday, July 11th 2011
In this NSWFish video, a hillbilly cowboy goes for the Darwin Award and the wins the Dumb Bitch Award by losing a high noon showdown to a damn paper target! Yes, a bullet to the leg by your own hand hurts something bad, but a bullet full of dumb to the ego hurts even more. If paper target people could shit, that one would've left a serious shredded mess from laughing so hard at all of this.
via Gawker
Friday, July 8th 2011
"Ole as Methusalem" and "EBT Card Awards" are just a few of the priceless nuggets my second favorite philosopher next to Megan Fox spat out of her finger tips in an eloquent blog post on her personal A to Zs. While Beyonce and Chris Brown sip purified beluga whale urine out of black diamond goblets on their flying Maybachs, Khia did the real work by renting out a computer at Kinko's for 2 hours to read all of them their rights! Beyonce's handlers better have a chalk eraser handy to wipe off the outline around her, because Khia pretty much destroyed her (not really).
The best of are below and I really hope to see Khia's version of the ABCs in an upcoming episode of Sesame Street. You haven't really heard the phrase "turned to the side ass pussy" until you've heard it from Elmo.

Letter A- Amber Rose:

Imma show this bitch a little love cuz she from Philly bald headed and all….She cute!!!! I aint gone judge the hoe because we all know she been on a strippa pole since she was 5 years old, suckin clits since 12, and decided to TRICK and SUCK every nigga in the game and wanna be a model at 35…… Get Money Biiiiiitch!!!!! But I am gone roast at the fact that she leaked photos on the internet of that MILE loooooong, 18wheeler, turned to the SIDE ass pussy, with her DUMB ass and lost ALL of the MONEY! It didn't work for KATRINA HARBOR and it's NOT gonework for YOU!!!!! Someone stole your computer, someone stole her phone……Heard it all before!!!! Chile boooo…Stick to what ya know
Trickin, Strippen and Suckin dick and pussy lips…..Get Money Biiiiiitch!!!!!

Letter B- Beyonce: Fuck this hoe………Can Kelly Rowland make a little bit of MONEY???? We all seen Kelly on the EBT card awards shut that shit down and here you come making Jay Z call in all of his favors to put you on the TV screen with that TIRED, THROUGH and DELAYED performance. We ALL could have passed on that! Imma a fan, true enough but we really sick of looking at you! Give Solange a chance or give your husband Jay Z some children cuz he getting ole as Methasulem and his time is running OUT!! Who runs the world? Girls…..Girls!

Letter C- Chris Brown: Oooooooooooo Hoooooooney…… How many records you sold????Cuz the sissy's and punks all around the world saw ALLLLLLLL your bizness With your "Who told Harpo to beat me," Blonde hair, Dick down to ya knees….. Redirect your anger please!! Looks like another Dennis Rodman to me….. I aint the one to gossip so you aint heard it from me!

Letter K-Katrina Laverne Taylor and Kimberly Denise Jones: I done let Lil Kim have it on my single "Fix Your Face," available on I-tunes, so we gone dedicate the letter K to Katrina Harbor, who done gave all

these niggas and bull daggers HIV, Lupus and Grave's Disease loosing hair and weight, with eyes and thyroids bulging out of the socket! Katrina Harbor has been killing niggas and bull-daggers for a whole decade…… When is yall niggas gone tell the truth? The hood already knows dis…..Easy E aint the only one who went out with a BANG… So glad I didn't Juuuuuump on that dirty Diiiiiiiiiiick!!!!!!!

Besides, I have already let the world know on the "Hit Er Up" diss that Katrina Harbor's DURTY, ROTTEN and CORODED ass can't have no babies…..Weezy aint been the same since he left your ass!!!! Aint no need to tweet about you NOT being PREG! When you don't take your meds you shrink like a prune and when you do, you big as 2 Burger Kings!!!! Keep it real hoe!!!!!

I hear CVS has a new Minute Clinic but the problems you have with your PUSSIE pussy, you gotta go to the free CLINIC for that!!!!! Bobble Head Biiiiiiiitch!!!!!

Letter Z-Kim Zolciak: Kim you finally dropped Big Poppa like a bad habit because he couldn't keep the rent and lights on at Shannon Mall in Union City! We all knew that you's a gold digging, money hungary ass whore with no talent! Kandi wrote you a national hit and you couldn't even perform it live because you were too busy trying to keep that synthetic wig in place that Derrick been sewing and stitching for years.Its funny how Kandi can write everybody else a hit…Opps, well enough of that back to the subject at hand..You finally struck gold with that young and tender football player after knowing him for only 90 days, you hit a home run with his first born son!!! Get Money Bitch………
Toss every poetry book in the library and replace them with a copy of this! I wish my life was like an episode of Herman's Head and I wish Khia was one of my emotions. Click here to read even more musings from the Shakespeare of Philadelphia.
Thursday, July 7th 2011
Slip on a pair of freshly pressed reading trousers, pull out your Baccarat decanter and pour out zero calorie air into a crystal tumbler and sip on it as you read what Tom Ford told Time Out Hong Kong about how America should probably import its people from China too since our national anthem has become the fat bitch wheeze and our national mascot is the double stuffed fupa.

"Americans are too fat. And in London they are starting to get fat too. So I have to say that if we have to talk about race system and nationalism, I find it refreshing that everyone [who is] Chinese is slim."
The only response I have to this is a prayer asking who ever is in charge of assigning babies to wombs puts this in Tom's surrogate:
If there is a God (and he's fat as fuck), please let this happen!
via The Cut