Justin Bieber
Monday, May 20th 2013
Taylor Swift displayed her hate for all things Justin Bieber when she did the international sign for "EWWW! Bieber cooties!" by sticking her tongue out while watching him kiss on Selena Gomez. Then later on while talking to the press, Taylor continued to display her hate for all things Justin Bieber when she shooed away a question about him. A reporter asked Taylor what she thinks about Justin Bieber winning the Milestone Award at such a young age. Taylor kept herself from dry heaving and then asked for another question.
I didn't think I liked any side of Taylor Swift, but I do like this anti-Bieber side of her. Yes, the crazed Beliebers will soon break out of their playpens at the mental ward and tear Taylor's scarecrow body apart, but I hope she spits out a whole lot of Beiber hate before that happens.
You know, one of my friends (correction: one my EX-friends) said on IM today that it's obvious that Taylor is being mean to Justin, because she really wants to scissor with him on her pirate canopy bed. That makes sense since Taylor is forever an 8th grader on the inside and she's a big meanie to boys she likes. Then this same friend when way too far when he said that if Nick Jr. was ever going to remake Beverly Hills, 90210, Justin should play Dylan, Taylor should play Kelly Taylor and Selena should play Brenda Walsh. I have never blocked a bitch on IM so fast in my life. It's all fun and games until you compare Selena Gomez to Brenda Walsh. Besides, Justin's way more of an Emily Valentine than a Dylan McKay.
And somewhere in a music studio right now, Tom Cruise is working on an album of songs in hopes that he wins a Billboard Music Award next year, because those trophies look like alien dicks.
Monday, May 20th 2013
While accepting a fan-voted, made-up award at the Billboard Music Awards last night, Justin Bieber continued to jack off his own ego and he told the audience that he should really be taken seriously as an artist. When you have to tell people to take you seriously as an "artist," you probably shouldn't be taken seriously as an "artist." If you tell people to take you seriously as an "artist" while wearing sunglasses indoors and drop crotch leather pants, you definitely should not be taken seriously as anything.
Some hos in the audience agreed and started booing his ass. Surprisingly, the Biebs didn't puff up his chicken hawk chest and threaten to beat up all those haters as his bodyguard held the waist of his leather diaper pants. The Biebs just kept on spewing some ridiculous shit about how he's not a gimmick and is a true artist.
"I'm 19 years old. I think I'm doing a pretty good job. And basically, from my heart, I really just want to say, it should really be about the music, it should be about the craft, the craft that I'm making. This is not a gimmick. I'm an artist and I should be taken seriously, and all this other bull should not be spoken of."
How very Kanye of him.
See, this is what happens when a bunch of grown ups repeatedly kiss the ass of a toddler and never give him some real talk. His ego gets bigger than the oopsie he made in his leather diaper pants and delusion becomes his best friend. The Biebs probably thinks that the money will never stop trickling into his Piggy Bank and he'll keep wasting money on life-sized Hot Wheel cars until he's broke and has to do Cash4Gold commercials. Besides fashion tips, has the Biebs learned nothing from MC Hammer?
But the most disturbing part of Justin Bieber's little speech is that he and Cee-Lo looked like the worst members of the gay leather lovers baseball league.
Monday, May 20th 2013
And now I know what it feels like to actually agree with Taylor Swift. It feels strange and someone might need to hold me.
Taylor Swift was walking backstage at the Billboard Music Awards last night when she caught her best friend 4eva awkwardly cheek kissing Justin Bieber and her reaction spoke for all of us. Since Taylor was dressed up like a damn figure skater, I give her ICK NAST face all 10s! Sticking your tongue out after watching your friend kiss on her douche ex-boyfriend is totally some junior high school shit, but for once I'm not annoyed by the fact that Taylor is an 8th grade mean girl trapped in the body of a squinting ostrich.
It's even better in GIF form and this GIF should go under "Taylor Swift's Greatest Achievement" on her Wikipedia page: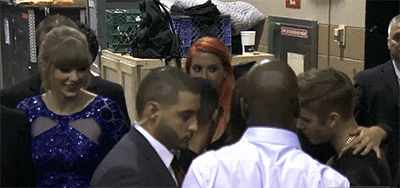 A slow clap and a standing ovation for Tay Tay!
And I made the same exact face when Taylor jumped on stage last night wearing one of Dawn Wiener's outfits.
Sunday, May 5th 2013
And here's another reason for why stage 4 Beliebers should be locked in their playpens and fed a steady stream of downers until they realize that they've been obsessively worshipping a glorified singing Kid Sister doll.
At his show in Dubai tonight, Justin Bieber was almost hugged to death by a crazy Belieber who crashed the stage and came at him. The Biebs' security immediately tackled the hugger, which caused the piano to fall over. No, Justin Bieber's security guards did not overreact, because if that insane hugger hugged the Biebs too hard, he would've exploded and Beanie Baby sand would've gone everywhere. It would've made the babies in the audience drown in their own tears. It would've been a bad scene.
And I take back what I said about the Beibs being a glorified singing Kid Sister doll. I mean, it's obvious that piano was made of cardboard and empty inside. So he's a musical genius for being able to play a fake piano that's made of cardboard!
via The National
Friday, April 26th 2013
Minutes after Selena Gomez electrocuted Justin Bieber with shock therapy nipple clamps (that's the only explanation for that hair), somebody (his publicist) took a picture of them getting gross and threw it up on Instagram. The Biebs added the note:
"You've been makin music for too long babe come cuddle" -her
HA. Makin' music? I don't see a Fisher-Price keyboard and a Playskool Rocktivity music table. You know he's either Skyping with Usher or playing a Bob the Builder game.
Of course, this STUNT QUEEN picture has made a million Beliebers stand on the rails of their cribs and threaten to jump. Here's just a few of the most priceless responses:
Help in having a panic attack maybe I should get my priorities straight this picture makes me sad

Selena your a fucking ugly whore and we all fucking hate you and your an asshole and hurt justin so bad and you were a sarcastic bitch I don't ducking know why you would take her back justin that was a stupid choice.

I thought u loved me but know i see u don't .i thought u were not gonna be back with her after all the bad things she said about you but I was wrong I don't want to be a #belieber anymore . And when u break up with her I promised my self that if u got back with her ill kill my self because I love u and I don't want to see u hurting again because of her . I know you might not see this because u are with her but I just want u to know I will always love u and ill protect u from #heaven I wish u the best bey . I killed my self for good

Puta selena justo publicas esto el dia que se cumplen 7 meses desde que avalanna murio

THIS IS AN OLD PIC. THERE'S NO TATTOO ON HIS BICEP. SO CONFUSED WHY WOULD HE POST AN OLD PICTURE

WHAT !? R USE DADTING AGAIN !? JELAAAAAA
And it goes on and on and on and on... I don't ducking know why Justin would do this, but I'm glad he did, because this is equal parts hilarious and sad (but it's not as sad as me spending my Friday night getting drunk and watching children meltdown on Instagram).
But you know, none of the Beliebers seemed to be concerned that in this picture Selena looks like she's about to drag Justin Bieber up to the attic to kill him.
Friday, April 26th 2013
I've always known that Wendy and Casper were going to freak on each other sooner or later...
The Swedish police taking his weed stash didn't get Justin Bieber down and before his concert in Stockholm today, he and a glasses-free Urkel leaned back and freak danced their way onto his tour bus. I see Justin trying to make Usher jealous by leaning into that dude's crotch.
You can laugh all you want at those foolish onesies, but you know who's not laughing? Justin's au pair. That onesie makes it extra easy for her to change his diaper when he gets a violent case of the weed shits. And where is Justin's au pair anyway? She needs to stick a pacifier in his mouth, because sucking his thumb is going to give him buck teeth and then he's really going to look like a beaver.
Thursday, April 25th 2013
I think we're all going to need some weed to process all of the foolery in this picture of Justin Bieber with his bodyguard. This child probably thinks that he looks like the next Michael Jackson when he really looks like an unused sex slave in Kunty Karl's S&M sex dungeon. Little asshole is putting the pussy in Pussy Riot. While I can appreciate the double zippers (easy access!) on his hot bodyguard's onesie, the shamed look on that grown dude's face is telling me that the millionaire child made him wear that pajama party uniform. I kind of want to make like Justin Bieber's fedora and fall back out of this whole scene. Moving on to other Bieber news....
TMZ says that at around 7pm in Stockholm, Sweden last night, police smelled the sweet scent of the good shit wafting out of Justin Bieber's tour bus, which was parked in front of the Grand Hotel. While they were getting a warrant to search the bus, the bus drove to the Globe Arena. When it got to the Globe Arena, the cops and a special narcotics unit searched the bus and found a small stash of drugs (the local newspapers are saying it was weed) and an unlicensed stun gun. Aftonbladet says that when the cops got on the bus, the Bieber's back-up dancers started screaming "No weed!" and "Shit, the stash!"
The bus was empty at the time, so nobody will be charged and the stash was found on the floor, so it's impossible to say who brought it on.
Meanwhile, as that was going on, Justin Bieber tweeted, "i love lamp." I guess we now know that Justin Bieber's favorite movie to get stoned to is Anchorman.
Personally, I think that weed should be legalized everywhere and I should be able to pick up a baggie at the checkout counter at Target. But I wouldn't open my lips to protest if Sweden wants to temporarily pass a law that states that if weed is found on the tour bus of a yodeling Canadian fetus, that yodeling Canadian fetus must immediately be jailed for the rest of his life! Thanks to his "Channel" ski mask, the Biebs would be the most fashionable prison bitch on the cell block.
(Pic via Vulture)
Tuesday, April 23rd 2013
I don't know who's going to need more therapy: me for looking at a picture of a monkey humping a stuffed animal while looking at a picture of Justin Bieber on an iPad or that monkey when he realizes that he once humped a stuffed animal while looking at a picture of Justin Bieber on an iPad. Definitely the monkey. Spending that much time with Justin Bieber really messes you up and leads you to some dark, scary places. You can see the trauma in the poor monkey's eyes.
Last month, Justin Bieber's dumb ass brought his living and breathing toy, Mally the monkey, into Germany without the proper documents. Officials put Mally into quarantine and told Justin that they wouldn't release his monkey unless he gave them the right papers. Justin shrugged, crawled out of Germany without Mally and told authorities he'd be back. The Biebs lied. HuffPo UK says that Justin's people have told German authorities that he's not coming back for Mally so they should just find the monkey a home. Karl Heinz Joachim, the head of the center where Mally is staying, said:
"There are a great many suitable places that have offered to take Mally and integrate him with their own capuchin monkeys where he would be much more happy with his own kind.

A baby monkey was never going to be suited to be on a world tour even if he is travelling by private jet. He should be out in the wild climbing trees and learning from other monkeys if he isn't to have serious psychological problems later in life."
Serious psychological problems LATER in life? Has Mr. Joachim seen the picture above? Poor Mally is suffering from serious psychological problems NOW. But this is the best thing for Mally. If Justin raised Mally, that monkey would develop a serious coke addition to deal with having Justin Bieber as a mommy and then he'd eventually have to share a room with Lindsay Lohan in rehab. That ain't the life.
And we should probably consider putting Justin Bieber into quarantine before somebody makes the mistake of spilling water on him and he multiplies into a dozen spoiled brats who abandon their pet monkeys in Germany.
Friday, April 19th 2013
After Justin Bieber reunited with the Portia to his Ellen, Selena Gomez in Norway, he Instagrammed this picture of him wearing the official Hood Rat Stuff uniform. Harmony Korine is punching himself in the taint right about now, because looking at this picture made him realize that he should've cast Justin Bieber as one of the masked bikini babe beauties in Spring Breakers. That coy side-eye, those parted lips... Hold all of Usher's calls, because he is taking the rest of the day off.
P.S. - Justin spelled "Chanel" wrong in his Instagram caption. Bitch spelled it "Channel." I bet if you complimented him on his top, he'd say, "Thanks! I bought it at Ver-sayce!"
via WOW Report
Wednesday, April 17th 2013
Every university's holocaust studies class can stop arguing the question "Anne Frank a Belieber: yay or oy vay?" because her stepsister has finally spoken. The Telegraph asked Anne's childhood friend and stepsister Eva Schloss what she thinks about the Biebs leaving the comment "Anne was a great girl. Hopefully she would have been a belieber" in the guest book of the Anne Frank Museum. Eva said this:
"It's so childish. She probably would have been a fan. Why not? He's a young man and she was a young girl, and she liked film stars and music. They make a lot of fuss about everything that is connected with Anne Frank."
One of two things is happening here:
1. Eva is not about to throw herself against the slobbery wrath of the crazed Beliebers and she doesn't want to be woken up at night by those crazy babies calling her to threateningly goo goo ga ga at her over the phone. So she played it safe and stayed on the good side of the Beliebers.
2. Eva is defending the yodeling fetus, because she's the one who's a Belieber. Anne Frank totally would've been a Directioner, so she and Eva would've hated each other.
And I guess this means that the words "...would have been a Belieber" will be chiseled into Anne Frank's gravestone now.