Panty Creamer of the Day
Sunday, December 25th 2011
You hiding out in the back of your closet while eating ham wrapped around broken pieces of candy cane to keep the dealing-with-your-family-induced drunk barfs down is a holiday tradition and so is me posting pictures of Simon Cowell's luscious German Shepherd tits. Every Christmas, Ryan Gaycrest's main homegirl goes over to Barbados to feed the stray island dogs with the 100% whole leche that shoots out of his nipples holes when he flexes his dough ball chichis.
Don't you just want to get naked and roll all around Simon's fluffy rug breasts, or do whatever the hell you do on a bearskin rug? I was about to say, don't you want you to titty fuck Simon, but how are you going to explain those rug burns on your genitals to your free clinic technician?
It really wouldn't be the holidays without a visit from Simon's double calzones of furry fun. And with that, I wish all of your asses a Merry Christmas. Or as they say in Italy, Buon Natale! Or as I say when I butcher that shit, Bone Natalie!
Sunday, November 20th 2011
Never mind the cell phone strapped to the waistband (!!!!!!!!) or the fact that he's dressed up more like a lesbian lumberjack buying a chainsaw at Home Depot than a butch bitch biker, Prince Hot Ginge straddled on a Harley is still making all of my pistons fire. Prince Hot Ginge has moved on from California to Arizona to continue helicopter training, and this past Friday he transformed into The Gingey Rider when he rented a Harley from a dealership in Scottsdale. This is the same Harley dealership in Scottsdale that I'm going to need you to stand guard in front of while I sneak in to make out with that bike's seat. You have my permission to mace me in the face if you see me putting a condom over one of those handlebars after pulling down my chonies. The ginger fever hits me the wrong way sometimes. I can't help it.
A witness tells The Daily Mail that the strands of pure bronze sprouting out of PHG's arms twinkled in the sun and blinded all motorists as he sped off for the open road with his bodyguard. The witness went on to say, "Harry looked like he definitely knew his way around a motorbike. It was Friday rush-hour traffic. He was on the freeway for a while before they hit the open road. He was weaving in and out of commuter traffic. He didn't even have proper leathers on or gloves. He rode like a pro."

You know, it's best that I let this moment from last night's Saturday Night Live describe my feelings about Hot Ginge on a Hog: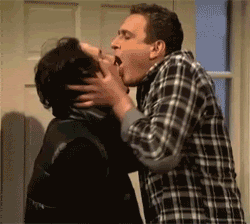 At this performance, the role of these PHG pictures will be played by Paul Rudd and the role of me will be played by Jason Segel.
Now if you'll excuse me, I have to go and practice my "grazing with a BIC" technique since the hanky code tells me that PHG gets into shaving shit. I knew there was a good reason for why the tingles overtake me when I get a whiff of ginger-scented shaving cream.
Saturday, November 19th 2011
Don't bother getting up to pick up the sweatpants and chonies that shot off of your body after your genitals exploded from seeing Mickey Rourke struttin' his sexy through some parking lot in Los Angeles yesterday. They'll just shoot off again as soon you put them back on. When Mickey's pants come off, everybody's pants come off. This is a truth of life. What also seems to be a truth of life is that the huge bulge on his mouth is bigger than the bulge in his panty shorts. HUNG LIPS: Mickey's got 'em. So if you're one of the lucky ones who gets to hump on Mickey, you now know where to direct your fuck part.
Wednesday, November 9th 2011
And he so knows the power his hands hold. Look at him softly caress that statue's undercarriage too. The Empire State Building's no smoking policy is temporarily void today, because it's going need a few cigarettes after this.
Wednesday, October 26th 2011
Here's Henry Cavill on the Vancouver set of Superman: Man of Steel and here's the two reasons why that make-up artist is Supergirl to my Saleeeeeeena:
1. THIS BITCH gets to write on her 2011 tax returns that one of her full-time jobs for this year was to spray WD-40 on Henry Cavill's nipples and smear grease all over furry pectacles until he looked like one of the rock hard pieces of blackened lung that Keith Richards hacks up after serving his 1 millionth cigarette for the day.
You really haven't successfully achieved professional greatness until human resources calls you into the office to say: "We need you to stop licking your lips and winking as you apply liquid dirt to Mr. Cavill's upper buttocks area. It's inappropriate. Also, we're going to need to confiscate your locker of all the body hairs you sneakily stole off of Mr. Cavill's chest."
2. When the light hits her hair against the green screen, it looks like a fall of sparkling ginger is gracefully trickling off of her head.
I mean, ginge (I think) and a full-time job as Henry Cavill's body greaser? What an obnoxious way of flaunting that you were Mother Fucking Theresa in your past life.
Wednesday, October 19th 2011
And here I was thinking that the mythical ripped stallions of pure beef from the magical land of the International Male catalog were not real creatures that existed in life, but then Joe Mangliaonowhatevernamesarecheap proves me wrong once again by bringing out his He-Man doll body in Hawaii yesterday. You know, normally I prefer my pieces the same way I prefer my Slim Jims, long, lean and mute, but staring at Joe's steel cum gutters... Oh, who the hell am I trying to fool with this "I prefer" shit. I prefer anything that doesn't suddenly remember he has a kidney stone to pass when he grabs onto my lonjas before making the love.
Sunday, September 18th 2011
If you answered "All of the Above!" you're the clear winner and should reward yourself by rubbing yourself something extra in the shower today! While I was going through pictures from a photo agency earlier morning, I came across these beauties and I really thought that I accidentally skipped into a new browser window and was staring at screen shots from Sean Cody, Corbin Fisher or one of those other fap material sites with names like a Leave it to Beaver character that never was. These two dudes are definitely on step 3 of "Two Snaps, A Twist, And A Kiss!" (Yes, today is obviously Men on Film Day!)
Here's Canelo Alvarez and Alfonso Gomez holding back their true burning desires (Just let me pretend, okay!) as their peen holes share the same breath at a weigh-in in L.A. on Friday before their match on Saturday night. The only way to look at these pictures is by letting this song be your soundtrack:
"Amor prohibido" is definitely what we're all murmuring on las calles.
Friday, September 16th 2011
Crazy is victorious today! Starting right now, the L.A. Lakers forward and Dancing For Relevancy contestant will hear "Mr. World Peace, your Thorazine prescription is ready" at the Rite Aid pharmacy, because a judge in L.A. approved his name change from Ron Artest to Metta World Peace. I've already said my peace (sorry) about Metta World Peace, so I'm just going to do the topless Lambada with an orange and be thankful that our asses are living in a time when the court approves ideas co-created by an insane motherfucker (I mean, an insane mettafucker) and the ganja pipe. Oh, what a wonderful world.
The L.A. Times also says that the fuckery doesn't fall far from the fuckery tree, because Metta's 8-year-old daughter Diamond wants to take his new last name. So, she'll be Diamond World Peace. I guess Diamond thinks that having the name of a pole dancer at a UNICEF strip club is a good way to go through life.
And even though Metta World Peace probably talks about constellations and shit while hitting it from the back, I still would.
Wednesday, September 14th 2011
Twatlight: Breaking Hymen made a number two on the internet last night by releasing its second trailer and not one second of it has scooted across my eye balls or ear drums. There really is no point. The only reason that Latter-day Saints lady wrote Twilight was so they could make movies, and the only reason the movies were made was so that there could be trailers for Nutty Madam to react to on YouTube. Nutty Madam is the throbbing clitoris of Twatlight. This much is true.
So why watch the trailer when you can BE the trailer and watch as Nutty Madam loses her virginity, gives birth, has a coronary, dies, turns into a ghost and gets spooked by her ghost reflection in the mirror all in the span of just a few minutes. Yes, Nutty Madam is definitely turning up the levels of ridiculousness and the panty putting pot pie she gives birth to might not be made of completely authentic ingredients, but it still wouldn't be Twilight Trailer Day without her.
You know, sometimes when my spirit is broken and I feel like I'm trapped in the middle of a Sam Cooke song, I lift myself up by doing the following:
1. Bring up a Nutty Madam reaction video.
2. Mute it and make it full screen.
3. Take off all my panties.
4. Put on this song:
(Sidenote: Edward and that Jacob trick should really settle their feud with a dance off.)
5. Daaance daaaance daaaaance in front of Nutty Madam.
6. Allow my spirit to turn its frown into a smile as my hot naked dance moves send Nutty Madam on a roller coaster ride of emotions.
You should do the same. Doing this will take you higher faster than masturbating while eating ice cream will. Guaranteed! It will also leave you permanently dry in certain parts, but there's a price for everything!
Monday, September 5th 2011
In case you missed it, here's ScarJo, Jeremy Renner, Chris Pine, Robert Downey Jr., Mark Ruffalo and Chris Hemsworth playing dress up on the NYC set of The Avengers on Saturday morning.
You know, if you took everything I know about The Avengers and used it to power your American flag finger vibrator this Labor Day, you'd be the opposite of patriotic because that shit wouldn't bust out one tingle due to the fact that I know absolutely nothing about The Avengers. Nothing. I don't know what their damn costumes do. I don't know why they're running around. I don't know why Jeremy Renner is dressed like a top at a gay leather bar who carries skinny starter dildos in a wine bottle carrier just in case he runs into a trainee bottom who needs a little assistance in the loosening up department. I don't know!
But I do know that The Avengers desperately needs the bulge budget that Superman has.