Selena Gomez
Monday, May 20th 2013
And now I know what it feels like to actually agree with Taylor Swift. It feels strange and someone might need to hold me.
Taylor Swift was walking backstage at the Billboard Music Awards last night when she caught her best friend 4eva awkwardly cheek kissing Justin Bieber and her reaction spoke for all of us. Since Taylor was dressed up like a damn figure skater, I give her ICK NAST face all 10s! Sticking your tongue out after watching your friend kiss on her douche ex-boyfriend is totally some junior high school shit, but for once I'm not annoyed by the fact that Taylor is an 8th grade mean girl trapped in the body of a squinting ostrich.
It's even better in GIF form and this GIF should go under "Taylor Swift's Greatest Achievement" on her Wikipedia page: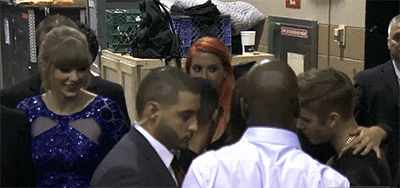 A slow clap and a standing ovation for Tay Tay!
And I made the same exact face when Taylor jumped on stage last night wearing one of Dawn Wiener's outfits.
Sunday, May 19th 2013
The number one question asked at the Billboard Music Awards tonight was, "Why does it smell like a spoiled chunk of gouda marinating in a dirty diaper on top of a subway platform in the middle of August?" And that's because Ke$hit showed up with her ass hanging out.
The Garbage Pail Kids' favorite pin-up ho actually looks like she was just deflead at the groomers. Yes, that skin-colored lipstick gave her abortion face and her ass cheeks are hanging out (which is a health department violation, I'm sure), but she actually looks clean-ish her. Bitch looks like a male Russian gymnast on estrogen going to a funeral and that IS the look.
And here's some other tricks and tramps at the Billboard Music Awards tonight. In order after Ke$hit: Hell's favorite couple, Hell's second favorite couple, a broke down Harley Quinn, a block of Top Ramen at the ho shit prom, Psy, Justin Bieber's former au pair (wearing a dress accessorized with glow sticks and bendy rubber rollers), Shania Twain, Taylor Swift, an Amish robot and something called a Z LaLa.
Friday, April 26th 2013
Minutes after Selena Gomez electrocuted Justin Bieber with shock therapy nipple clamps (that's the only explanation for that hair), somebody (his publicist) took a picture of them getting gross and threw it up on Instagram. The Biebs added the note:
"You've been makin music for too long babe come cuddle" -her
HA. Makin' music? I don't see a Fisher-Price keyboard and a Playskool Rocktivity music table. You know he's either Skyping with Usher or playing a Bob the Builder game.
Of course, this STUNT QUEEN picture has made a million Beliebers stand on the rails of their cribs and threaten to jump. Here's just a few of the most priceless responses:
Help in having a panic attack maybe I should get my priorities straight this picture makes me sad

Selena your a fucking ugly whore and we all fucking hate you and your an asshole and hurt justin so bad and you were a sarcastic bitch I don't ducking know why you would take her back justin that was a stupid choice.

I thought u loved me but know i see u don't .i thought u were not gonna be back with her after all the bad things she said about you but I was wrong I don't want to be a #belieber anymore . And when u break up with her I promised my self that if u got back with her ill kill my self because I love u and I don't want to see u hurting again because of her . I know you might not see this because u are with her but I just want u to know I will always love u and ill protect u from #heaven I wish u the best bey . I killed my self for good

Puta selena justo publicas esto el dia que se cumplen 7 meses desde que avalanna murio

THIS IS AN OLD PIC. THERE'S NO TATTOO ON HIS BICEP. SO CONFUSED WHY WOULD HE POST AN OLD PICTURE

WHAT !? R USE DADTING AGAIN !? JELAAAAAA
And it goes on and on and on and on... I don't ducking know why Justin would do this, but I'm glad he did, because this is equal parts hilarious and sad (but it's not as sad as me spending my Friday night getting drunk and watching children meltdown on Instagram).
But you know, none of the Beliebers seemed to be concerned that in this picture Selena looks like she's about to drag Justin Bieber up to the attic to kill him.
Sunday, March 24th 2013
Who knew that Doogie Howser was a gusher? If your eyes woke up this morning with a craving for a picture of Neil Patrick Harris and Sandra Bullock making terrifying O faces as a geyser of slimy goo shoots into the air, here you go, you sucio perv.
Usually when Kristen Stewart's hands are covered in slime, it's because she ran them through her hair. But yesterday, KStew got covered in Slimer's butt drool after she hugged Sandra Bullock and Neil Patrick Harris while accepting her award for Favorite Movie Actress at the Nickelodeon Kids' Choice Awards in L.A. Yeah, the kids chose her as their favorite movie actress. This is why kids should never get a vote. And the Earth tipped a little to the side yesterday, because KStew gave her usual bitchface the day off and actually cracked a few smiles during the show. Nickelodeon must have stuffed the bongs in her dressing room with some serious good shit. Either that or that green's slime got some THC in it.
Here's a few more pictures from yesterday's KCAs. In order: Sandra Bullock, KStew and NPH (looking like Goop's colonic machine exploded all over them), Katy Perry, Selena Gomez, a greasy and knocked up Fergie Ferg, Ke$hit channeling Dumb and Dumber with her brother, a domesticated Sasquatch, Dog Chapman with Beth Chapman and the Smith kids.
Tuesday, March 19th 2013
Selena Gomez was on the Late Show last night to promote Vice Magazine: The Movie (aka Spring Breakers) and David Letterman asked her about a certain superstar fetus who was once the Vili Fualaau to her Mary Kay Letourneau. Selena said that she's completely single and then she poured a little salt on the Biebs' diaper rash. Letterman and Selena's conversation about the Biebs went like this:
Letterman: Do you date, do you go out and see, are you dating boys now?

Selena: No, not yet.

Letterman: Now I remember the last time you were here you were with a Justin Bieber.

Selena: I was with "a" Justin Bieber?

Letterman: Yeah, you were with a Justin Bieber. That's not going on now?

Selena: No, I'm single. I'm so good.

Letterman. Good. I think you're fine. The last time he was on, he and I got into a conversation and he said something and I said something and he said something and I said something, and I made him cry.

Selena: Well, then that makes two of us.
Way to ruin Justin Bieber's reputation as the thug leader of Hood Rat Stuff Nation, Selena Gomez. Selena just had to let us know that the Biebs started bawling when she put his hand on her lady boob for the first time. Selena definitely gets points for that Bieber burn, but she loses points for wearing a figure skater's mourning outfit out in public.
Friday, March 15th 2013
I hope you have a Baby Wipe or wet nap near you, because Marilyn Manson definitely left a lip stick (shade: pre-period surprise) stain on your monitor. Wearing less paint on his face than your average Kardashian, Marilyn Manson pulled himself out of his Hot Topic-brand bedroom coffin to pose at the Hollywood premiere of Spring Breakers last night. Because of that white flour on his face and that dark red lipstick, Marilyn looks like an uncooked, deconstructed black cherry pie that dried out from sitting on the counter so long.
Marilyn brought his latest piece Lindsay Usich who sort of looks like a Taylor Armstrong wax figure that was put together using parts from a Lana Del Rey wax figure and a Molly Ringwald wax figure. Obviously, Marilyn and his piece were the hottest couple there even though Ashley Benson and James Franco tried to claim that title with their STUNT QUEEN whispering on the red carpet. I don't know if Selena Gomez is smirking, because she can't with that public display or stuntin' or because she remembered that she once dated Justin Bieber.
Here's a few more pictures from last night's premiere of the movie version of a cum-stained Body Glove tank top. In order: MM with his piece, the cast, James Franco, Selena Gomez, Vanessa Hudgens with the ATL Twins and Ashley Benson.
Thursday, January 17th 2013
After months of hearing about this mess and seeing pictures of this mess, there's finally a mess of a trailer for this mess. You might want to get yourself a Dixie cup full of Listerine before you hit play on the Spring Breakers trailer, because watching it will leave a taste of dark tanning oil, chlorine, watered down Jäger, Mountain Dew Amp and dirty foreskin grease in your mouth.
Selena Gomez, Vanessa Hudgens and Ashley Benson are trying to scrub the Disney from their images by playing Girls Gone Wild-like skanks who rob a store to fund their spring break. Then after they get caught and make an appearance in court in their bikinis, they meet a gold-toothed, dick cheese-having James Franco who looks and acts like what you would get if you fed Four Loko to a Mogwai after midnight. The rest of the trailer plays out like something straight out of Brit Brit and KFed's old home movies.
Well, if this mess flops, the producers can always sell it as a commercial to Florida's Tourism Board. And Demi Moore should call her lawyers now, because the phrase "Spring break forever, bitches!" is her official life motto and I'm pretty sure she trademarked that shit.
via HuffPo
Monday, December 24th 2012
Justin Bieber rolls out of his crib in the morning and takes a bong hit. He decides which thuglife dropcrotch leggings to wear that day while receiving a mouth hug from his waterpipe. He puff, puff passes right before he goes on stage to pass out rodents to screaming tweens who will surely rip the poor thing to shreds just to have something he touched. (Real talk - you know there's a Belieber living in a Atlanta suburb right now with a decapitated hamster head glue-gunned to the front of her dream journal. Poor lil' guy.) What I'm trying to say is that Justin Bieber is sssttttooonnnnneeeed. Do you blame him? He's under pressure! He's back with Selena Gomez and his screamy fangirl milita ain't happy 'bout that.
Radar Online posted some pics of mini-Hilary Swank and Mary Kay Letourneau Selena at a Salt Lake City airport being those annoying make-out teens you see in the food court at the mall with the lap-sitting and the touching of noses, and the Aeropostale bags. Take it to mom's basement, geeks! Anyway, shit got real in the Belieber section of Twitter this past weekend when those crazed infants got wind of this.
A delightful sampling:
@strongforjieber wrote: "Go back to your own friends and family. let justin breath and get your tongue from down his throat @selenagomez."
@CatchThatBieber posted: 'Oh wow. that's obviously how he thanks her for humiliating him in public. do you have a bit of dignity left?"
"Your relationship is faker than joan rivers face @justinbieber @selenagomez"
Why they gotta bring Joan Rivers' beautiful visage into this? Dicks. The New York Daily News (via Jezebel) sez that Justin will probably have nary a fuck to give about this seeing as he's a giant douche.
"Justin doesn't seem to care and does whatever he wants," a source tell Confidenti@l. One insider says Bieber's team has had several talks with him, but "he doesn't listen to anyone."
Another Bieber insider tells us, "He smokes weed all day, from the time he gets up, and orders everybody around. He's surrounded by hangers-on who say 'yes' to anything he wants. There's no supervision."
You mean a celebrity toddler who wears diapers made out of $100 dollar bills and has 30 million followers on Twitter has become an arrogant asshole? Heavens! Water has become fire and I've decided to eat pussy. What a world, what a world.
Sunday, November 18th 2012
Taylor Swift is currently humping her way to her next #1 album, but she took a little time away from skipping through the lavender fields with the mop-headed twink from One Direction who I always mistake for Maggie Gyllenhaal. Taylor dropped Harry Styles' hand for a second to comfort a friend of need. Taylor gave her best friend 4 eva a shoulder to weep on, because Selena Gomez still isn't over Justin Bieber embarrassing her by wearing the most fucked up toddler outfit ever.
Taylor and Selena had dinner at an Italian restaurant and I'm sure the former told the latter not to get mad, get THAT MONEY by writing a song about the douche who hurt her in the heart. Then afterward, they drove to Selena's house, got into their pajamas and shared a raw cookie dough log while laughing about how they don't need stupid smelly boys when they've got each other! As they got higher and higher on raw cookie dough, they rolled around on the carpet, giggled.... and I'm going to stop now before I write the lezzie fan fiction that NOBODY wants to read. I've already gone too far.
Saturday, November 17th 2012
The sound of her child screaming and wailing through the baby monitor woke Justin Bieber's mother up late last night after he came home in tears, because his on-and-off piece Selena Gomez was a big meanie to him at dinner. TMZ says that The Lesbeaver and Selena had dinner at a Japanese restaurant in Encino, CA last night and it ended with a huge fight of words. My guess is that Justin got mad because Selena refused to cut up his sushi into little pieces and didn't make the "vroom vroom" sound while spoon feeding him Mochi. The Biebs had a tantrum, so Selena left and he followed her home in his Ferrari Big Wheels. When he got to her house, he tried to go inside, but Selena denied him! That cold baby-abusing bitch.
But really, do you blame Selena for being mean to Bieber? I'd be mean to a baby too if he showed up wearing that mess of a onesie (or whatever that is). Is that what Gymboree is selling nowadays? I don't even know what those pants are doing. It's like a pair of Long Johns shitting up a pair of Hammer pants. Justin is trying to make us think that just because his pants dropped, that means his balls dropped too. Nice try, Justin.
And let's wash away the image of Justin's droopy diaper leggings with pictures of his hot new bodyguard. This might be the only time I've ever been jealous of Justin Bieber. Because when Selena hurts his innocent heart, he can cry into the iron arms of this hot piece.